MUMIA ABU-JAMAL (1954- )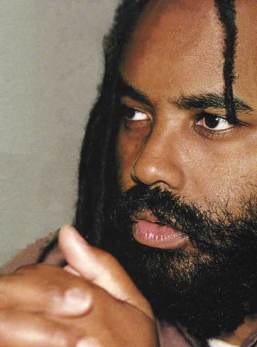 An Afro-American political prisoner who was wrongly convicted of murdering a policeman in 1981 in what was clearly a grossly unfair trail. He has been on death row in Pennsylvania since then awaiting execution, while attempting to win a new (and fair) trial through the legal appeal process. There have been both temporary legal victories and serious legal setbacks for him, but he has remained on death row for nearly three decades now. However, Mumia also has widespread mass support in the U.S., and perhaps even more so in Europe and other parts of the world. Most of the world considers the death penalty barbaric and uncivilized, and chooses to support Mumia on that basis whether or not he is guilty of the crime he is charged with.
Mumia was born Wesley Cook in 1954, and during the period of Black Liberation Struggle and revolutionary upsurge during the 1960s he became a member of the Black Panther Party. In later years he was a political activist, journalist, broadcaster and part-time cab driver. Since his imprisonment he has written several books and broadcast a series of powerful news commentaries under the title "Live from Death Row".
Mumia's case has generated enormous controversy, with reactionaries rabidly determined to execute him for a whole variety of reasons: to set an example for all those who kill cops (as they insist Mumia did despite the unfair trial); to show that even killing a cop in self-defense is unacceptable (as some suspect may have been the situation here); to stop protests about unfair trials (no matter how unfair they really are); for racist reasons (because Mumia is Black); and for political reasons (because Mumia is and remains a revolutionary). Because we Marxists are absolutely opposed to all these excuses to kill Mumia, we must continue to firmly work in support of him, and insistently call for his freedom.
MUNICH AGREEMENT
"[The agreement] signed in Munich in September 1938 by British Prime Minister Chamberlain and French Premier Daladier with the German and Italian fascist chieftains Hitler and Mussolini.
"On the eve of World War II, the insatiable German fascists openly threatened to gobble up Czechoslovakia, a small country in Europe, shortly after they had annexed Austria. On the pretext that part of the German people were living in the Sudetenland of Czechoslovakia, Hitler, massing a large number of troops on the border, threatened to invade the country. Britain, France and the other imperialist countries had the illusion that they could save themselves at the expense of Czechoslovakia and push the German fascists eastward to attack the Soviet Union, which was a socialist country at that time. It was against this background that the Munich agreement was concluded.
"The agreement consisted of eight articles. The main stipulations were that Czechoslovakia should, within a fixed period of time, cede to Germany the Sudetenland and the southern parts bordering on Austria and transfer its military installations, industrial and mining enterprises and means of transport in these areas to Germany without compensation, and that its remaining territory would be 'guaranteed' by Britain, France, Germany and Italy against any further invasion.
"Instead of reducing the danger of war, the British and French policy of appeasement served only to inflate the German fascists' arrogance and whet their appetite for aggression. Following their occupation of the Sudetenland in November 1938, the German fascists invaded and occupied all of Czechoslovakia in March 1939. And in September that year they attacked Poland, which had a treaty of alliance with Britain and France, thus triggering off World War II." —Note in Peking Review, #45, Nov. 4, 1977, p. 43.
MY LAI MASSACRE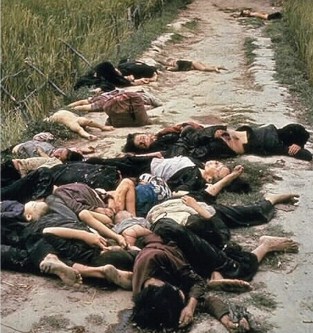 The most notorious massacre of unarmed civilians, mostly women and children, by mad-dog U.S. imperialist troops during the Vietnam War. The massacre occurred on March 16, 1968, but the U.S. government tried very hard to suppress any word about it, and it did not come to light until well over a year later.
There were actually a great many other U.S. massacres of civilians in Vietnam, Laos and Cambodia during that war, including many far worse even than the hundreds murdered at My Lai. But the majority of these horrible massacres were done by bombings from the air, rather than face-to-face by soldiers on the ground. However, the directness of this massacre, and its animalistic brutality, had a much greater impact than the routine massacres from the air which could more easily be dismissed as "unfortunate mistakes." The actual fact of the matter is that virtually all wars by the imperialists inherently involve mass murders and massacres, typically on a scale that can only be considered as outright genocide.
See also: VIETNAM WAR—U.S. War Crimes In
"On March 16, 1968, two platoons of American soldiers arrived at the hamlet of My Lai, in the district known as Son My in what was then South Vietnam. The men were from Charlie Company of the First Battalion, 20th Infantry Regiment, 11th Brigade, 23rd Infantry Division, and they were on a search-and-destroy mission. They entered the village around 8 in the morning. Several hours later, between 300 and 500 villagers lay dead.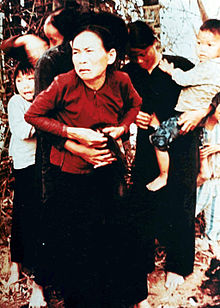 "Just how the massacre started has never been precisely determined, but the details were horrific. Eyewitnesses described bayonetings, clubbings, and close-range shootings, all without a single shot being fired at the Americans. Many of the dead were women, children, and the elderly. Some were killed while kneeling in prayer. Some were found with 'C Company' carved into their flesh. The men of Charlie Company had been in Vietnam all of three months.
"The My Lai massacre is commonly called a turning point in American support for the war. It wasn't. By the time journalist Seymour Hersh broke the story in the fall of 1969, the military investigation was well underway. The only individual actually convicted was Lt. William Calley, who commanded the men of Charlie Company. At home his conviction was unpopular. Private White House polling discovered that four out of five Americans wanted him released.
"Support for the war, as John E. Mueller points out in his 1973 book, War, Presidents and Public Opinion, had already begun to drop a bit, especially among the less educated. After the massacre became known, public support actually increased. At the time of the massacre, American ground forces had been in Vietnam for three years. The killings at Kent State, which would galvanize antiwar forces, were still to come." —Stephen L. Carter, "My Lai Revisited After Afghanistan Massacre", Newsweek, March 26 & April 2, 2012, p. 19.
[Carter, a liberal journalist, claims that massacres such as My Lai and more recent ones in Iraq and Afghanistan do not typify U.S. wars; he even absurdly claims that "Nearly all of our military forces serve with enormous honor and courage". But the fact that U.S. imperialist troops perform such massacres at all speaks for itself. And the "support" for such massacres on the part of the American public—to the extent they actually do support it—also shows the horrifying hold of ruling class imperialist ideas on the masses in the U.S. And although Lt. Calley was given a sentence of life imprisonment, he was actually released from house arrest after three and a half years, and was never sent to prison at all. —S.H.]