FACTIONS — Within the Proletarian Party
From the law of dialectics, that one divides into two, it is obvious that there will always be factions within every political party or organization (unless, possibly, the "party" is really a cult, with one guru who does all the thinking, and with a bunch of blind and mindless followers). The question is what the attitude of revolutionary communists should be towards factions. Should they be allowed, or should efforts be made to suppress them?
In most Marxist-Leninist parties over the past century there has been great hostility towards factions and factionalism, and very often members accused of factionalism have been expelled. If the factionalists were truly disruptive of the mass work of the party, then this was justified. But otherwise it was not. Although the party, as a voluntary organization, may make whatever rules it wishes on such matters, still, it is in the long-term interests of the party and the revolution to be internally democratic, to allow differing views and even factions with similar minority views. After all, this minority may eventually be proven correct! (This happened with Mao in the early Communist Party of China, for example. Would it have been a good thing if Mao had been expelled from the CCP for factionalism while the erroneous Ch'en Tu-hsiu and Wang Ming lines were in charge? Obviously not!)
Factions within a revolutionary party should be allowed, and definitely not suppressed, providing that:
1) The members of the faction, and the faction as a whole, fully obey party discipline, and sincerely try to do the work the party assigns them;
2) It does not obstruct the work of the party among the masses; and
3) It is open and above board (not secret).
See also: "On the Question of Multiple Revolutionary Parties", by Scott H., at: http://www.massline.org/Politics/ScottH/MultPart.htm, especially the last section.
"Outside a party there exist other parties and inside a party there exist factions; this has always been the case." —Mao, quoted in "Make a Class Analysis of Factionalism", by Hongqi Commentator, Peking Review, #19, May 10, 1968, p. 3.
"In order to unite the whole Party and the whole people it is necessary to promote democracy and let the people speak out. It should be so within the Party; it should also be so outside the Party…. All leading members within the Party must promote democracy and let people speak out. What are the limits? One is that we must observe Party discipline, the minority must obey the majority, and the whole party should obey the Center.
"Another limit is the prohibition on organizing secret factions. We are not afraid of open opposition groups. Such people [i.e., those in secret factions] do not speak the truth to your face; what they say to your face is all falsehood and deceit. They do not express their real aims. But as long as they do not break discipline, as long as they are not carrying on any secret factional activities, we should always allow them to speak and even if they should say the wrong things we should not punish them. If people say the wrong things they can be criticized, but we should use reason to convince them. What should we do if we [try to] persuade them and they are not convinced? We can let them reserve their opinions. As long as they obey resolutions and obey decisions taken by the majority, the minority can be allowed to reserve their various opinions. Both within and outside the Party there is advantage in allowing the minority to reserve their opinions. If they have incorrect opinions they can reserve them temporarily and they will change their minds in the future. Very often the ideas of the minority will prove to be correct. History abounds with such instances. In the beginning truth is not in the hands of the majority of people, but in the hands of a minority. Marx and Engels held the truth in their hands, but in the beginning they were in the minority. Lenin for a very long period was also in the minority. We had this kind of experience within our own Party. Both under the rule of Ch'en Tu-hsiu and during the period of rule of the 'Left-wing' Line truth was not in the hands of the majority in the leading organs, but rather in the hands of the minority." —Mao, "On Democratic Centralism", excerpt from his "Talk at an Enlarged Central Work Conference" [informally known as the "Seven Thousand Cadres Conference"] (Jan. 30, 1962); in Stuart Schram, ed., Chairman Mao Talks to the People: Talks and Letters: 1956-1971, (NY: Pantheon/Random House, 1974), pp. 182-3.
[Mao explicitly supported the right of Party members to form factions. At that same Conference, a few days after Mao's comments quoted above, Deng Xiaoping said in his speech that it is impermissible to form factions in the Party. But Mao interrupted him to say that only secret factions were unacceptable. See: Roderick MacFarquhar, The Origins of the Cultural Revolution—3: The Coming of the Cataclysm 1961-1966, (Oxford University Press and Columbia University Press, 1997), p. 174.]
FAMINES — Imperialist Caused
There have been a large number of famines around the world which were caused most fundamentally by foreign imperialism, sometimes even on purpose (for genocidal reasons).
One of the worst of these famines was that in British-ruled India in 1943-1945. This famine in Bengal and adjoining provinces killed well over a million people and perhaps as many as 6 or 7 million. British Prime Minister Winston Churchill ordered that India continue to export grain to England even as the famine developed in Bengal, and later, at a time when the famine was quite severe, ordered that all shiploads of grain from Australia by-pass India and bring it to England—not because it was needed there at the time, but just for storage for possible future needs! [For more information about this particular famine see: "The Forgotten Holocaust—The 1943/44 Bengal Famine", by Dr. Gideon Polya (2005), at http://globalavoidablemortality.blogspot.com/2005/07/forgotten-holocaust-194344-bengal.html , a BBC broadcast on the topic which included Dr. Polya and Economics Nobel Laureate Amartya Sen at http://www.open2.net/thingsweforgot/bengalfamine_programme.html, and the book Churchill's Secret War: The British Empire and the Ravaging of India during World War II, by Madhusree Mukerjee (2010).]
See also the book by Mike Davis, Late Victorian Holocausts (2002) which shows that the British response to two late 19th century famines amounted to genocide, and notes that in some British labor camps people were fed fewer calories than even in the Nazi death camps.
FANNIE MAE
A semi-official agency of the U.S. federal government engaged in issuing and guaranteeing home mortgages. Its formal name is the Federal National Mortgage Association, but it is almost universally referred to by its nickname "Fannie Mae". Officially it is what is known as a "government-sponsored enterprise" (GSE) which was set up by Congress to support and stabilize the mortgage credit market, where mortgages and mortgage-related assets (such as CDO's and similar derivatives) are bought and sold by financial capitalists. Fannie Mae is one of several officially independent GSE's, but is in reality a federal agency, which props up the mortgage portion of the financial industry. It is one of the originators of the securitized bundles of mortgages which have played such a major role in the current financial crisis. Fannie Mae also purchases mortgage-related derivatives for its own account and issues its own bonds to pay for them. It is, in other words, a key pillar of the financial house of cards that constitutes the U.S. mortgage market.
Fannie Mae was first set up as a government agency in the Great Depression of the 1930s. In 1968 it was re-chartered by Congress as a GSE, but remained a quasi-official government agency because of its implicit government financial guarantee. The financial panic of 2008 showed that its economic "independence" was a pure fiction. In early September 2008, Treasury Secretary Henry Paulson announced the rescue package for Fannie Mae and its cousin Freddie Mac, and the formal takeover by the government of both companies.
"Fannie Mae is the nation's largest mortgage buyer and a financial juggernaut that affects the lives of tens of millions of home buyers. It was taken over by the federal government on Sept. 8, 2008, along with Freddie Mac, as the two mortgage giants struggled with deep losses and investors lost confidence in the pair.
"Many experts believe that Fannie and Freddie are likely to remain wards of the state for years.
"And, given the alarm in some quarters over the mounting budget deficit, these two giants and their vast obligations are likely to remain conveniently—and controversially—off the federal books. Fannie Mae and Freddie Mac have obligations of $3.9 trillion to investors who bought bundles of mortgages that the companies assembled.
"Lawmakers of both parties, eager to demonstrate their scorn for the companies, have called for their eradication. But few policy makers are willing to take aggressive steps that might weaken the housing market. On Dec. 24, 2009, the White House quietly disclosed that it had, in effect, given the companies a blank check by making their federal credit line unlimited; the ceiling had been $400 billion." —From the New York Times website.
FANSHEN [Book]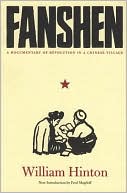 A classic book, by William Hinton, about the course of social revolution in the Chinese village of Long Bow in Lucheng County, Shansi Province. It describes in careful detail the efforts, often successful, sometimes not so, of the local members of the Communist Party of China to mobilize the masses in this village to make revolution. It often demonstrates the leadership method of the mass line in practice.
"Every revolution creates new words. The Chinese Revolution created a whole new vocabulary. A most important word in this vocabulary was fanshen. Literally, it means 'to turn the body,' or 'to turn over.' To China's hundreds of millions of landless and land-poor peasants it meant to stand up, to throw off the landlord yoke, to gain land, stock, implements, and houses. But it meant much more than this. It meant to throw off superstition and study science, to abolish 'word blindness' and learn to read, to cease considering women as chattles and establish equality between the sexes, to do away with appointed village magistrates and replace them with elected councils. It meant to enter a new world. That is why this book is called Fanshen. It is the story of how the peasants of Long Bow Village built a new world." —William Hinton, on the first page of his great book.
"This is a very important book for revolutionary communists to read. It is what first opened up my eyes as to what communists are trying to do, and how they are trying to go about doing it." —Scott Harrison