FACTIONS — Within the Proletarian Party
From the law of dialectics, that one divides into two, it is obvious that there will always be factions within every political party or organization (unless, possibly, the "party" is really a cult, with one guru who does all the thinking, and with a bunch of blind and mindless followers). The question is what the attitude of revolutionary communists should be towards factions. Should they be allowed, or should efforts be made to suppress them?
In most Marxist-Leninist parties over the past century there has been great hostility towards factions and factionalism, and very often members accused of factionalism have been expelled. If the factionalists were truly disruptive of the mass work of the party, then this was justified. But otherwise it was not. Although the party, as a voluntary organization, may make whatever rules it wishes on such matters, still, it is in the long-term interests of the party and the revolution to be internally democratic, to allow differing views and even factions with similar minority views. After all, this minority may eventually be proven correct! (This happened with Mao in the early Communist Party of China, for example. Would it have been a good thing if Mao had been expelled from the CCP for factionalism while the erroneous Ch'en Tu-hsiu and Wang Ming lines were in charge? Obviously not!)
Factions within a revolutionary party should be allowed, and definitely not suppressed, providing that:
1) The members of the faction, and the faction as a whole, fully obey party discipline, and sincerely try to do the work the party assigns them;
2) It does not obstruct the work of the party among the masses; and
3) It is open and above board (not secret).
See also: "On the Question of Multiple Revolutionary Parties", by Scott H., at: https://www.massline.org/Politics/ScottH/MultPart.htm, especially the last section.
"A faction is an organization within a party, united, not by its place of work, language or other objective conditions, but by a particular platform of views on party questions.... Every faction is convinced that its platform and its policy are the best means of abolishing factions, for no one regards the existence of factions as ideal. The only difference is that factions with clear, consistent, integral platforms openly defend their platforms, while unprincipled factions hide behind cheap shouts about their virtue, about their non-factionalism." —Lenin, "The New Faction of Conciliators, Or the Virtuous" (Oct 18 [31], 1911), LCW 17:265, online at: https://www.marxists.org/archive/lenin/works/1911/oct/18b.htm
"Within the working class there is no basis for fierce conflict. Within the working class under the dictatorship of the proletariat, there is even less reason for splitting into two factional groups." —Mao, Renmin Ribao [People's Daily], Sept. 14, 1967. (Quoted in Peter R. Moody, Opposition and Dissent in Contemporary China (Hoover Institution: 1977), p. 47.) [Mao is here opposing the sort of factionalism within a proletarian party that leads to the functional inability to decide upon and implement a unified political line (through the mechanisms of democratic centralism). In other words, he is against the sorts of factions that really amount to having multiple mutually-opposed proletarian parties. —Ed.
"Outside a party there exist other parties and inside a party there exist factions; this has always been the case." —Mao, quoted in "Make a Class Analysis of Factionalism", by Hongqi Commentator, Peking Review, #19, May 10, 1968, p. 3.
"In order to unite the whole Party and the whole people it is necessary to promote democracy and let the people speak out. It should be so within the Party; it should also be so outside the Party…. All leading members within the Party must promote democracy and let people speak out. What are the limits? One is that we must observe Party discipline, the minority must obey the majority, and the whole party should obey the Center.
"Another limit is the prohibition on organizing secret factions. We are not afraid of open opposition groups. Such people [i.e., those in secret factions] do not speak the truth to your face; what they say to your face is all falsehood and deceit. They do not express their real aims. But as long as they do not break discipline, as long as they are not carrying on any secret factional activities, we should always allow them to speak and even if they should say the wrong things we should not punish them. If people say the wrong things they can be criticized, but we should use reason to convince them. What should we do if we [try to] persuade them and they are not convinced? We can let them reserve their opinions. As long as they obey resolutions and obey decisions taken by the majority, the minority can be allowed to reserve their various opinions. Both within and outside the Party there is advantage in allowing the minority to reserve their opinions. If they have incorrect opinions they can reserve them temporarily and they will change their minds in the future. Very often the ideas of the minority will prove to be correct. History abounds with such instances. In the beginning truth is not in the hands of the majority of people, but in the hands of a minority. Marx and Engels held the truth in their hands, but in the beginning they were in the minority. Lenin for a very long period was also in the minority. We had this kind of experience within our own Party. Both under the rule of Ch'en Tu-hsiu and during the period of rule of the 'Left-wing' Line truth was not in the hands of the majority in the leading organs, but rather in the hands of the minority." —Mao, "On Democratic Centralism", excerpt from his "Talk at an Enlarged Central Work Conference" [informally known as the "Seven Thousand Cadres Conference"] (Jan. 30, 1962); in Stuart Schram, ed., Chairman Mao Talks to the People: Talks and Letters: 1956-1971, (NY: Pantheon/Random House, 1974), pp. 182-3.
[Mao explicitly supported the right of Party members to form factions. At that same Conference, a few days after Mao's comments quoted above, Deng Xiaoping said in his speech that it is impermissible to form factions in the Party. But Mao interrupted him to say that only secret factions were unacceptable. See: Roderick MacFarquhar, The Origins of the Cultural Revolution—3: The Coming of the Cataclysm 1961-1966, (Oxford University Press and Columbia University Press, 1997), p. 174.]
FAKE NEWS
Donald Trump, the notorious U.S. demagogue former president, has constantly promoted the idea that any news reports that he disagrees with, or that criticize him in any way (or which he finds otherwise inconvenient), are "fake news". In response, liberal opponents of Trump, as well as the establishment media in general, have ridiculed Trump and have defended the general reliability and trustworthiness of the news which they purvey. It's an ironic situation because most of what Trump calls "fake news" is in fact truthful, while the news media nevertheless is essentially a purveyor of actual fake news on many important topics!
The news media in a capitalist-imperialist country like the United States almost exclusively presents the viewpoint of the tiny ruling class. It twists and systematically puts a bourgeois spin on virtually every news story of a political nature. And, as John Pilger points out at length in his book Freedom Next Time (2007), it fails to report much of the news which would embarrass the ruling class or reflect poorly on it (such as most of its constant murders of innocent people around the world). The "news", as the capitalist ruling class calls it, is indeed largely fake. The masses must come to understand this. But at the same time, we should not accept the lies and also fake news that demagogues like Trump and other politicians want to push down our throats.
See also: DISINFORMATION
"What Donald Trump wants is more bias, not less; more fake news, not less. What he demands from the media is not objectivity, but complicity." —David Frum, Trumpocracy: The Corruption of the American Republic (2017). [Frum is a conservative Republican author, but one who is alarmed by and opposed to Donald Trump. —Ed.]
FALLING RATE OF PROFIT THEORY (For Capitalist Economic Crises)
[To be added... ]
See also below, and: OKISHIO THEOREM, "ORGANIZED CAPITALISM", PROFITS—Corporate
The primary and leading textbook of genuine (revolutionary!) Marxism in the late 19th century was Engels's great work, Anti-Dühring (1878). Engels put tremendous effort into writing this book, not only to refute the mostly pseudo-scientific theories and outlook of Dühring, but also to summarize the whole revolutionary theory that Marx and he had created. Marx read the entire manuscript before its publication, and even contributed a chapter to the book, so we can be quite sure that there was nothing of major importance in the book that Marx disagreed with, and no major omissions of central points that Marx himself wanted to include in that definitive summation of their joint work.
Thus given the obvious care and importance that both Engels and Marx put into this text, what was the theory of capitalist economic crises that appeared in it? The very interesting thing is that what many academic Marxists now take to be the central Marxist theory of crises, the falling rate of profit theory, is not even mentioned! Instead, Engels sums up Marx's crisis theory by first talking for several pages about the anarchy and lack of overall planning which reigns in capitalist production [MECW 25:259-262] and then says:
"We have seen that the ever increasing perfectibility of modern machinery is, by the anarchy of social production, turned into a compulsory law that forces the individual industrial capitalist always to improved his machinery, always to increase its productive force. The bare possibility of extending the field of production is transformed for him into a similar compulsory law. The enormous expansive force of modern industry, compared with which that of gases is mere child's play, appears to us now as a necessity for expansion, both qualitative and quantitative, that laughs at all resistance. Such resistance is offered by consumption, by sales, by the markets for the products of modern industry. But the capacity for extension, extensive and intensive, of the markets is primarily governed by quite different laws that work much less energetically. The extension of the markets cannot keep pace with the extension of production. The collision becomes inevitable, and as this cannot produce any real solution so long as it does not break in pieces the capitalist mode of production, the collisions become periodic. Capitalist production has begotten another 'vicious circle'." [MECW 25:262-3]
This entire section of Anti-Dühring thus focuses on two really major problems in capitalist production, first, its anarchic and uncoordinated overall system of production, and second, its complete inability to expand its market for the commodities it produces as fast as it expands that production—which leads to periodic overproduction crises. No reference at all is made to any falling rate of profit.
However, did Marx change his mind, and his crisis theory later? No he didn't! Marx's writing on the falling rate of profit, which Engels later incorporated into the published version of Volume III of Capital, was done during the years 1863-1865, before Anti-Dühring was written in 1876-1878. This is further evidence in support of the view of Michael Heinrich that Marx had after the mid-1860s in effect abandoned the falling rate of profit theory of capitalist crises. (See: "Capital after MEGA: Discontinuities, Interruptions, and New Beginnings", by Michael Heinrich, Crisis & Critique journal, Vol. 3, #3, 2016(?), available online at: https://www.bannedthought.net/MLM-Theory/PoliticalEconomyOfCapitalism/Crises/CapitalAfterMEGA-Discontinuities-Heinrich-2016-OCR.pdf )
FALLING RATE OF PROFIT THEORY — Empirical Investigations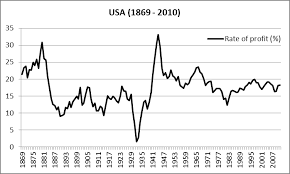 Although the empirical data for the rate of profit in the United States and other countries is by no means perfect, in part because it is not generally precisely calculated in terms of Marxist categories of surplus value, constant capital, variable capital, and so forth, we do now have some reasonable estimates which are good enough for us to draw some conclusions about the theory that there is a long-term tendency for the rate of profit to fall, and the theory that capitalist overproduction crises are caused by preceeding episodes of the falling rate of profit. The empirical evidence, at least for the U.S., seems to rather conclusively show that both theories are simply not correct.
The graph at the right shows the variations in the rate of profit in the U.S. over one of the longest study periods available, from 1869 to 2010. (We will further discuss some more in a moment why it is very important to have at least approximate data from over very long periods.) [This graph is taken from Ivan D. Trofimov, "The secular decline in profit rates: Time series analysis of a classical hypothesis", 8 June 2018, Munich Personal RePEc Archive]
You will first notice that in the graph there is no overall long-term tendency for the rate of profit to decline. However, there are several periods of sharply declining rates of profit and also several periods of sharply increasing rates of profit. Starting from the left edge of the graph, for the post-Civil War years of 1869-1881, there was a rapid rise in the annual profit rate from the 20% range to around 30%. But then, starting around 1882 and continuing until about 1891 there was a major sharp decline in the rate of profit. What was going on then? This was a prolonged period of weakness in the American economy which at the time came to be called the "Great Depression". (This name for that period was later forgotten when the even worse "Great Depression of the 1930s" came along.) But note that this major decline in profits in the 1880s and beyond from around the 30% level all the way down to a low of just 9%, was coextensive with that prolonged period of serious economic weakness. In other words, there is better reason to say this period of declining profits was a consequence of the depression than there is to say that declining profits led to that prolonged depression.
There was a recovery in the profit rate from around 10% in 1892 up to about 17% in 1905, followed by a relapse to back around 10% in 1911. Then, during the period from 1911 to 1929, average profit rates turned around and began to significantly rise again, from around just 10% annually up to around 15%. And note that this is the period leading up to the beginning of the Great Depression of the 1930s. So once again, during this important 18-year period, the hypothesis that falling rates of profit led to that greatest of all U.S. and world overproduction crises so far is shown to be completely false.
However, starting in 1929, when the Depression began, until the worst depths of the Depression in 1933, the rate of profit dropped like a rock almost all the way down to 0%. Again, this shows the fall in profit rates to be the result of the capitalist overproduction crisis, not the cause of it.
After 1933 profit rates started to recover, and then with government preparations for World War II, and the vast government spending during the war, the profit rate zoomed up to its greatest level ever, to a peak of about 33%. At that level the government was simply dumping money into the laps of corporations. Of course that couldn't continue after the war was over, at least not at that extreme level. So profits then fell considerably, down to the low 20s percent by 1953 and then down to about 18% around 1959, even though the quarter-century after WW2 was a major capitalist boom period. In other words, the very big fall in profit rates from utterly fantastic down to merely pretty damned good, in no way interrupted that post-World War II boom.
In the mid-1960s there was another short-term rise in the rate of profits during the Vietnam War, up to a peak of about 23%. After that time, for a number of decades, and until the severe Great Recession of 2008-9 and its aftermath, the overall average profit rate continued wobbling within the fairly narrow range of 13% to 20%, even though the period of the Long Slowdown in the growth rate of GDP began in 1973. In other words, although economic growth was cut in half for decades on end, profit rates remained fairly stable.
Those modern proponents of the falling rate of profits theory for capitalist crises almost always use statistics only from the late 1940s on. The reason is pretty clear: If you start from that exceptional apex of a 33% profit rate during World War II, or even from just a few years later, then everything might appear to be down hill from there on! This is an example of why we argue that a fair assessment of the falling rate of profit theory should be as long term as possible so that the statistical data cannot be distorted in this way.
We should note that the graphs of average profit rates over time look very different in different countries. And a few countries, most notably Britain, do in fact show a long term trend, more or less steady, in the decline of profit rates, for decade after decade. This can probably be best explained by pointing out the particularities of Britain, and especially its long decline as an imperial power, becoming ever less able to extract super-profits from other countries.
The first serious empirical study of the thesis that the rate of profit has a tendency to fall over time is that by Joseph M. Gillman in 1958. Although his methods and statistics have since been criticized (as, indeed, have those of probably all other such studies!), we quote some of his results below. We also quote below a few summaries or conclusions by other more recent studies which also pretty much disprove the basic notions that there is a tendency for the rate of profit to fall over time, and that such a fall can in any way explain the development of capitalist overproduction crises. The summary of one study we quote claims to find "weak evidence" for the long-term tendency for the rate of profit to decline. But we should note that that study also only starts with data from 1948, and doesn't even mention the contrary evidence from earlier decades. —S.H. [April 3, 2023]
See also: PROFITS—U.S. Corporate Profits
"Marx developed his economic doctrines largely on the basis of axioms and their demonstration mostly on the basis of purely hypothetical data. This was especially true with respect to his law of the falling tendency of the rate of profit, although his pages abound with numerous factual and historical references....
"Marx did not have the facts against which to test his law of the falling tendency of the rate of profit. They first had to emerge from generations of capitalist production. But we now have a considerable accumulation of such facts, and it seems high time that, with Francis Bacon, we counted the horse's teeth instead of continuing to speculate about their number. True, the available statistics are not in the form exactly suited to the purpose. Capitalist business firms do not report, nor do official statistical agencies process their statistics to conform to the Marxist categories. Above all, these statistics do not allow us to separate out the factors which affect its realization, as a full test of the law as Marx formulated it would require. But with this precaution in mind, they can be made to serve as fair appoximations for testing the assumptions which underlie this law. [p. 31] ...
[Speaking with regard to the theory of the rising organic composition of capital, the assumed general stability of the rate of exploitation, and the supposed consequent falling rate of profits:] "Now we find that, while for the measurable years before the early part of the twentieth century these theses are fairly well sustained by the available statistical evidence, since that time, as measured by an extension of the same evidence, they appear no longer to hold true.
"Had our investigations stopped with 1919, the case for Marx's law would have been complete: a rising organic composition of capital; a stabilizing tendency of the rate of surplus-value; a falling rate of profit, corresponding inversely with a rising organic composition!
"But what of the years beginning with 1919? What has happened since then that seems to have abrogated that law? Since 1919 the ratio c/v has tended to remain constant or even to fall. The rate of surplus-value, if anything, has tended to rise, in spurts. And the rate of profit, rather than fall, has tended to rise." [p.59]
—Joseph M. Gillman, The Falling Rate of Profit: Marx's Law and its Significance to Twentieth-Century Capitalism, (NY: Cameron Associates, 1958), excerpts from pages 31 & 59. [Gillman then attempts to "reformulate" the theory of the tendency for the rate of profit to fall to account for developments in the 20th century. However, it seems to me that a "law" which doesn't work for decades at a time (including for a large part of the capitalist-imperialist era in the U.S.) is not much of a law, not even much of a "tendential law". And note especially that the very worst economic crisis in U.S. history (so far), the Great Depression of the 1930s, began following a nearly two-decade period when the rate of profit was rising instead of falling (though of course it fell greatly in 1929 once the financial crisis and Depression started). For this reason it seems completely unreasonable to claim that the falling rate of profit in any way "led to" or "caused" or somehow "explains" the Great Depression. —S.H.]
"The law of the tendential fall in the rate of profit has been at the center of theoretical and empirical debates within Marxian political economy since the publication of volume III of Capital. An important limitation of this literature is the relative paucity of modern econometric investigations of the behavior of the rate of profit. The central objective of this paper is to remedy this lacuna. We investigate the properties of the profit rate series utilizing the methods of time series econometrics. The evidence suggests that the rate of profit is non-stationary. We also specify a test of Marx's law of the tendential fall in the rate of profit with a novel econometric model that explicitly accounts for the counter-tendencies and their time series properties. We find weak evidence of a long-run downward trend in the general profit rate for the U.S. economy for the period 1948-2007." Abstract of the article by Deepankar Basu and Panayiotis T. Manolakos, "Is There a Tendency for the Rate of Profit to Fall? Econometric Evidence for the U.S. Economy, 1948-2007", Review of Radical Political Economics, Vol. 45, Issue 1, May 24, 2012. The working draft of the paper, which makes stronger pro-falling-rate claims which were eased away from in the final publication, is online at: https://scholarworks.umass.edu/cgi/viewcontent.cgi?article=1098&context=econ_workingpaper
FAMILY
Family relationships have been modified down through the course of human history by many factors, and especially by whichever form of socioeconomic system is dominant at the time. And capitalism, like other forms of exploitative class society such as slavery and feudalism, has had a severe and ever-growing negative impact on human families. One major trend at the present time which should be mentioned is the apparent gradual dying out of marriage altogether! (See: MARRIAGE—Trends in Contemporary Capitalist Society)
Families have also been seriously harmed since World War II by the increasing economic necessity for both parents (where there are two in the family) to have jobs, which very negatively impacts the care and development of children. And the current intensified gradual disappearance of more and more jobs, due to automation and artificial intelligence as well as to the developing economic crisis, and the resulting increased poverty of more and more people, is leading to further disintegration of the family structure. Similarly, we should mention the virtual disappearance of the economically unified multi-generational extended family, including grandparents, living in a single home. Instead, in modern capitalist society old people are largely displaced from their families and (if their children can afford it) they are sent off to wither away and die in what are often lonely and miserable conditions in commercial-profit old folks homes.
See also the entries below.
"The bourgeoisie has torn away from the family its sentimental veil, and has thus reduced the family relation to a mere money relation." —Marx & Engels, Manifesto of the Communist Party (1848), Ch. I: MECW 6:487.
FAMILY DISCORD
As noted in the above entry, capitalism has had a severe and disruptive effect on families. One of the relatively underappreciated results of current capitalist trends, and the long-developing new capitalist overproduction crisis which began around 1973, in particular, is the increasing level of discord, personal, political and social antagonisms, and such, within families too, as well as society at large.
"What's Ripping American Families Apart?
"At least 27 percent of Americans are estranged from a member of their own family, and research suggests about 40 percent of Americans have experienced estrangement at some point.
"The most common form of estrangement is between adult children and one or both parents—a cut usually initiated by the child....
"Some kids seem to think they need to cut off their parents just to have their own life.... In other cases, children may be blaming their parents for the fact that they are not succeeding as they had hoped—it's Mom and Dad who screwed me up.
"I write about this phenomenon here because it feels like a piece of what seems to be the psychological unraveling of America, which has become an emerging theme of this column. Terrible trends are everywhere. Major depression rates among youths aged 12 to 17 rose by almost 63 percent between 2013 and 2016. American suicide rates increased by 33 percent between 1999 and 2019. The percentage of Americans who say they have no close friends has quadrupled since 1990, according to the Survey Center on American Life. Fifty-four percent of Americans report sometimes or always feeling that no one knows them well, according to a 2018 Ipsos survey.
"I confess, I don't understand what's causing this. But social pain and vulnerability are affecting everything: our families, schools, politics and even our sports.
"A friend notes that politics has begun to feel like an arena where many people can process and regulate their emotional turmoil indirectly. Anxiety, depression and anger are hard to deal with within the tangled intimacy of family life. But political tribalism becomes a mechanism with which people can shore themselves up, vanguish shame, fight for righteousness and find a sense of belonging."
—David Brooks, a bourgeois columnist, New York Times, July 30, 2021. [Brooks may be puzzled by the causes of all the things he points out, but to Marxists the answer is simple: bourgeois society is disintegrating. That does mean worsening chaos and conflict, of course, and lots of people looking for easy answers. But it also means there is hope that humanity can eventually come out of this capitalist nightmare and build a new positive socialist, and then communist, existence for itself. —Ed.]
FANNIE MAE
A semi-official agency of the U.S. federal government engaged in issuing and guaranteeing home mortgages. Its formal name is the Federal National Mortgage Association, but it is almost universally referred to by its nickname "Fannie Mae". Officially it is what is known as a "government-sponsored enterprise" (GSE) which was set up by Congress to support and stabilize the mortgage credit market, where mortgages and mortgage-related assets (such as CDO's and similar derivatives) are bought and sold by financial capitalists. Fannie Mae is one of several officially independent GSE's, but is in reality a federal agency, which props up the mortgage portion of the financial industry. It is one of the originators of the securitized bundles of mortgages which have played such a major role in the current financial crisis. Fannie Mae also purchases mortgage-related derivatives for its own account and issues its own bonds to pay for them. It is, in other words, a key pillar of the financial house of cards that constitutes the U.S. mortgage market.
Fannie Mae was first set up as a government agency in the Great Depression of the 1930s. In 1968 it was re-chartered by Congress as a GSE, but remained a quasi-official government agency because of its implicit government financial guarantee. The financial panic of 2008 showed that its economic "independence" was a pure fiction. In early September 2008, Treasury Secretary Henry Paulson announced the rescue package for Fannie Mae and its cousin Freddie Mac, and the formal takeover by the government of both companies.
"Fannie Mae is the nation's largest mortgage buyer and a financial juggernaut that affects the lives of tens of millions of home buyers. It was taken over by the federal government on Sept. 8, 2008, along with Freddie Mac, as the two mortgage giants struggled with deep losses and investors lost confidence in the pair.
"Many experts believe that Fannie and Freddie are likely to remain wards of the state for years.
"And, given the alarm in some quarters over the mounting budget deficit, these two giants and their vast obligations are likely to remain conveniently—and controversially—off the federal books. Fannie Mae and Freddie Mac have obligations of $3.9 trillion to investors who bought bundles of mortgages that the companies assembled.
"Lawmakers of both parties, eager to demonstrate their scorn for the companies, have called for their eradication. But few policy makers are willing to take aggressive steps that might weaken the housing market. On Dec. 24, 2009, the White House quietly disclosed that it had, in effect, given the companies a blank check by making their federal credit line unlimited; the ceiling had been $400 billion." —From the New York Times website.
FANSHEN [Book]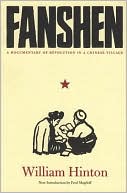 A classic book, by William Hinton, about the course of social revolution in the Chinese village of Long Bow in Lucheng County, Shansi Province. It describes in careful detail the efforts, often successful, sometimes not so, of the local members of the Communist Party of China to mobilize the masses in this village to make revolution. It often demonstrates the leadership method of the mass line in practice.
"Every revolution creates new words. The Chinese Revolution created a whole new vocabulary. A most important word in this vocabulary was fanshen. Literally, it means 'to turn the body,' or 'to turn over.' To China's hundreds of millions of landless and land-poor peasants it meant to stand up, to throw off the landlord yoke, to gain land, stock, implements, and houses. But it meant much more than this. It meant to throw off superstition and study science, to abolish 'word blindness' and learn to read, to cease considering women as chattles and establish equality between the sexes, to do away with appointed village magistrates and replace them with elected councils. It meant to enter a new world. That is why this book is called Fanshen. It is the story of how the peasants of Long Bow Village built a new world." —William Hinton, on the first page of his great book.
"This is a very important book for revolutionary communists to read. It is what first opened up my eyes as to what communists are trying to do, and how they are trying to go about doing it." —Scott Harrison
FASCISM
The form of capitalist society in which the bourgeoisie rules by open, terroristic violence against the people, as opposed to bourgeois democracy. As an extreme form of bourgeois nationalist rule, fascism often also includes rabid forms of racism, often to the point of genocide. The most vicious and notorious example was Nazi Germany (1933-1945).
All capitalist countries have at least some elements of fascism, to one degree or another, and to the extent that the bourgeoisie thinks these elements are "necessary" in order to maintain their rule. Nevertheless, we call those countries which allow relatively more freedoms of speech, of the press, of association, and allow at least some mass protest bourgeois democracies, while those countries which have few if any such freedoms we call fascist.
See also: LUMPENPROLETARIAT AND FASCISM
"Fascism is the open terrorist dictatorship of the most reactionary, most chauvinistic, most imperialist elements of finance capital." —Statement of the Enlarged Executive of the Communist International, Moscow, 1933.
[Although this is still a fairly good capsule definition of fascism, it is based a little too much on the form fascism took in Italy and then Nazi Germany during the 1930s. Fascism is best thought of as a form of capitalist rule, and as such it may exist even in countries which are not themselves imperialist ones or dominated by their own finance capitalists. —S.H.]
Principles in the MLM Conception of Fascism:
1. Fascism is one of the two major forms of capitalist class rule, the other being bourgeois democracy. Both fascism and bourgeois democracy are forms of the dictatorship of the bourgeoisie. But bourgeois democracy is a qualitatively more relaxed form of that dictatorship in that it allows more scope for the working class and masses to express their opinions, to protest, to organize themselves and for their organizations to operate openly without being suppressed, and to publish and distribute newspapers and other political literature. Bourgeois democracy also allows elections, but while we support the existence of these elections, we also recognized that they are mostly rigged by the bourgeoisie through their control of what they call "education" and their ownership of nearly all the mass media.
2. Whether or not a regime is fascist is primarily a question of how it goes about exercising its dictatorship over other classes, and especially over the proletariat and masses.
3. How the regime treats revolutionaries and revolutionary parties (along with the militant mass movements they organize and lead) is especially key in determining whether a regime is a fascist one or not. This is because it is revolutionaries who are actually most active in making use of the rights of speaking out, protesting, assembling, organizing others, and publishing writings promoting the real interests of the workers and masses.
4. Although terrorism characterizes fascism, there is also plenty of terrorism directed at the "unruly masses" by the ruling class under bourgeois democracy. It is not that terrorism against the people only exists under fascism; it is just that it is qualitatively more extensive and severe.
5. Fascism and bourgeois democracy are theoretical extremes or archetypes; all actual capitalist regimes have elements of both types of bourgeois rule. (With the possible exception of Nazi Germany which really was close to the total fascist archetype!)
6. Regimes can be categorized as either fascist or bourgeois democratic based on whether they most closely approximate the fascist theoretical archtype or the bourgeois democratic theoretical archetype.
7. Individual laws or actions by the bourgeois state can be appropriately categorized as fascist if they correspond to the sorts of laws or actions typical of the fascist theoretical archetype, and whether or not they occur in a regime which we overall categorize as fascist.
8. Since fascism vs. bourgeois democracy is a matter of how the bourgeoisie rules, it is possible for it to rule in different ways in different areas (as well as at different times), and therefore to be a fascist regime in one area and a bourgeois democratic regime in another area. Thus regions under martial law are under fascist conditions, and this is also more apt to be the case within internal colonies and ghettos.
9. Bourgeois democracy is unstable and periods of fascism are virtually inevitable—especially as the bourgeoisie faces a major crisis or nears its overthrow.
10. Struggling against fascist laws and policies of the government in a bourgeois democracy is a struggle for reforms. We should never forget this nor confine our work mostly (or only!) to the struggle for a purer form of bourgeois democracy; that would turn us from communists into bourgeois democrats. But on the other hand, the struggle against fascist laws and policies is an important and necessary part of building a truly revolutionary struggle against capitalism in any of its forms.
Conclusion: Large areas of the world are already appropriately called fascist from the proletarian revolutionary point of view. Even in countries and areas where bourgeois democracy still exists, there are often new fascist laws and policies being implemented, and frequently there is at least a slow trend in the direction of fascism. As the world capitalist economic crisis continues to intensify over the next decade and beyond there will almost certainly be a further impetus toward fascism in a growing number of countries. This is something we need to recognize, prepare for, and resist with all our might.
—Adapted and summarized from a more thorough discussion of fascism in the 19-page essay, "A Short Introduction to the MLM Conception of Fascism": PDF Version [335 KB]; MS Word Version [122 KB]. —Scott Harrison
FASCISM — And National Chauvinism and Racism
Fascism, as the article above states, is in its central essence one of the two forms of the rule of the capitalist class; namely, the form of that rule which involves the open terroristic suppression of the working class and masses. However, it is also true that fascism, virtually wherever it arises, is extremely national chauvinist and deeply racist, often to the point of genocide. It is important to understand just why this is.
First, all capitalist ruling classes are based in one or another nation state, and they are a quite small part of the whole population even in that one nation. For such a ruling class to cohere and continue to rule over its domain it must develop strong internal ideologies of not only capitalist class cohesion but also promote as many other forms and mechanisms of national unity as possible, including (normally) ethnic and linguistic cohesion. The ruling class itself is tiny, the "one percent" as we now say. So it is all the more important for them that they find and promote reasons beyond just their own class interest, such as shared ethnicity, language and "race", and often religion, to try to unite the rest of the population in support of their rule.
That much is more or less true of all capitalist countries at all times. However, in times of serious social crisis, whether that be major capitalist economic crisis or war, it becomes even more pressing for the tiny ruling class to use every means at its disposal to promote "national unity" (i.e., general unity in support of itself as the only "legitimate" ruler of the nation).
Moreover, it becomes absolutely imperative in times of social crisis for the ruling class to find someone else to blame for the hugely intensifying problems and worsening condition of the broad masses. They absolutely need scapegoats in order to keep the masses from turning against them, since their capitalist class itself, and the capitalist-imperialist system, is the real cause of these economic, war, environmental and other disasters. Of course the natural people for them to blame are: other nations, and—within their own nation—those people who most strongly oppose their rule and the people who are in some way different (because of race, ethnicity, religion, language, etc.) from the largest part of the population.
Fascism is the form of bourgeois rule which is necessary for the capitalist class in times of crisis, and, in turn, because it develops in times of crisis it requires that the ruling class intensify its national chauvinism, racism and hatred of other peoples, in order to maintain its continued rule. And it is especially in times of crisis and when there is misery for growing sections of the people that the ruling class must find someone else to blame, scapegoats, for the disasters they and their system have created. They even find it necessary at times to whip up their adherents into a frenzy and to physically attack and even murder their opponents and the scapegoats they have identified. Fascism is indeed a horrible, despicable thing—the capitalist-imperialist ruling class at their very worst.
FASCISM — Bourgeois Conceptions Of
The central characteristic of all bourgeois conceptions of fascism is that they do not view either fascism or "democracy" (i.e., bourgeois democracy) as forms of rule by the capitalist class. Instead they focus on secondary issues such as whether more than one bourgeois party exists and is allowed to compete in "fair" elections.

"[Fascism is the system that] favors big business, strengthens the position of heavy industries, retains enough of the profit system to permit the elite to build personal fortunes... facilitates cartelization, and spends huge sums for military purposes [and in which] free collective bargaining and self-government of labor organizations is abolished." —Legislative Reference Service of the Library of Congress, Fascism in Action: A Documented Study and Analysis of Fascism in Europe (Washington, DC: U.S. Government Printing Office, 1947), p. 204; quoted in Robert W. McChesney and John Nichols, People Get Ready: The Fight Against a Jobless Economy and a Citizenless Democracy (2016), p, 180. [These things are of course generally true of fascism, but they are not the essence of it. —Ed.]
"But [after World War II] very quickly any momentum to directly attack fascism disappeared, and all attention went to addressing the 'communist' threat. It was as if World War II had never happened. Anti-fascism was suspect, unless the critic made it abundantly clear that communism was every bit as evil, as [U.S. Congressman Wright] Patman did in his foreword to the 1947 fascism report. And eventually anti-fascism just became suspect, period." —Robert W. McChesney and John Nichols, ibid.
[Anti-fascism is indeed highly suspect to the capitalist ruling class, even to its bourgeois democratic proponents, for several reasons: 1) Anti-fascism is most strongly and insistently promoted by communists and revolutionaries; 2) Many people, and not just Marxists, do correctly view fascism as an alternative form of capitalist rule (which deeply offends capitalist supporters of bourgeois democracy); and 3) The bourgeoisie as a whole knows that it is "forced" to implement some fascist measures from time to time even during periods of overall bourgeois democracy, and it recognizes that more such measures or even outright fascism may be "necessary" in the future in order to keep down the unruly working class and masses during times of economic or social crisis. Therefore, the only way that social democrats and "progressives" can bring themselves to oppose trends toward fascism is to themselves adopt, to a considerable degree, the wishy-washy conception of fascism that is somewhat more acceptable to the ruling class: i.e., the conception that fails to acknowledge that fascism is one of the two forms of the dictatorship of the bourgeoisie. —Ed.]