POL POT REGIME [in Cambodia]
A brutal peasant nationalist regime which came to power in Cambodia in April 1975 and was overthrown by invading Vietnamese troops in January 1979. Although often quite erroneously called a "Maoist" movement and regime, it was nothing of the kind, and never claimed to be.
Far from seeking to build an urban proletariat and put the working class in power, the Pol Pot regime emptied out the cities and attempted (with little success) to create a rural peasant socialist utopia. It used the harshest methods, and killed a very large number of people (though claims by anti-communist ideologists in the West of the number of deaths were grossly exaggerated and included hundreds of thousands of people who were actually killed by the massive U.S. bombing of the country during the Vietnam War, and the accompanying starvation and chaos).
For an extensive summation of the Pol Pot regime from a Maoist point of view see: "Condescending Saviors: What Went Wrong with the Pol Pot Regime", by F.G., A World to Win, #25 (1999), online at: http://www.bannedthought.net/International/RIM/AWTW/1999-25/PolPot_eng25.htm
POLITICAL EDUCATION (Of the Working Class)
"The question arises, what should political education consist in? Can it be confined to the propaganda of working-class hostility to the autocracy? Of course not. It is not enough to explain to the workers that they are politically oppressed (any more than it is to explain to them that their interests are antagonistic to the interests of the employers). Agitation must be conducted with regard to every concrete example of this oppression (as we have begun to carry on agitation round concrete examples of economic oppression). Inasmuch as this oppression affects the most diverse classes of society, inasmuch as it manifests itself in the most varied spherese of life and activity—vocational, civic, personal, family, religious, scientific, etc., etc.,—is it not evident that we shall not be fulfilling our task of developing the political consciousness of the workers if we do not undertake the organization of the political exposure of the autocracy in all its aspects? In order to carry on agitation round concrete instances of oppression, these instances must be exposed (as it is necessary to expose factory abuses in order to carry on economic agitation)." —Lenin, "What Is To Be Done?" (1902), LCW 5:400-401.
"POLITICAL MARXISM"
A term used by one small segment of contemporary American academic Marxism to describe their views on historical materialism, and their general point of view and approach. The founders of this school of thought are Robert Brenner and Ellen Meiksins Wood. They are described as focusing on the "social history of political theory", and spend a lot of space talking about topics such as globalization, precapitalist societies, liberalism, civil society, and such, with little connection to any active revolutionary movements in the world. It is hard to point to any new, significant or genuinely Marxist ideas that this trend has come up with.
POLITICS — Bourgeois
"I believe in the division of labor. You send us to Congress; we pass laws under which you make money ... and out of your profits, you further contribute to our campaign funds to send us back again to pass more laws to enable you to make more money." —U.S. Senator Boies Penrose (Republican-Pennsylvania), 1896. Quoted in The Nation, July 21/28, 2003, p. 3.
POLYARCHY
A conception of how bourgeois "democracy" actually works. This term was introduced by the prominent American bourgeois "political scientist" Robert Dahl in his book Polyarchy: Participation and Opposition (1971). Dahl claimed that polyarchy is the only "realistic" form of democracy possible in modern society. Under this reactionary conception it is actually impossible to have genuine rule by the people (which was the original Greek meaning of the word 'democracy'); instead, bourgeois democracy is reduced almost entirely to having competitive elections where the "serious" candidates virtually always represent one or another group of "elites" (i.e., sections of the ruling class). Candidates are deemed "serious" when they receive large campaign donations and (in large part because of these huge donations from the rich) serious attention and promotion by the bourgeois media sufficient to win significant voter interest and support.
While ideological representatives of the bourgeoisie put forward polyarchy as the way that "modern democracy must work", there are also strong critics of polyarchy on the left. One prominent Marxist-influenced critic is William I. Robinson, especially in his book Promoting Polyarchy: Globalization, US intervention, and hegemony (1996). (See quotations below.) Robinson emphasizes that the "democracy promotion" which the U.S. supposedly engages in around the world (especially in the "Third World") is essentially phony because what the U.S. rulers mean by "democracy" is merely polyarchy. Morever, the polyarchic regimes that the U.S. promotes, and often helps set up in other countries, make it easy for U.S. imperialism to control those countries (through the promotion of local compradors, for example) and thus easier for the imperialists to extract wealth from those countries—all while maintaining the pretence that they really do support genuine democracy around the world!
Marxist-Leninists view bourgeois democracy as actually being one of the two primary forms that the dictatorship of the bourgeoisie takes (the other form being fascism). We follow Mao in viewing genuine democracy as meaning the people having real collective control over their own lives. Bourgeois democracy for us is clearly essentially fraudulent, with the real control of people's lives and society as a whole, including via their phony elections, virtually entirely in the hands of the capitalist ruling class or else local representatives of foreign imperialism. For us polyarchy is a travesty of true democracy.
"What US policymakers mean by 'democracy promotion' is the promotion of polyarchy, a concept which developed in US academic circles closely tied to policymaking community in the United States in the post-World War II years (the word was first coined by Robert Dahl). Polyarchy refers to a system in which a small group actually rules and mass participation in decision-making is confined to leadership choice in elections carefully managed by competing elites. The pluralist assumption is that elites will respond to the general interests of majorities, through polyarchy's 'twin dimensions' of 'political contestation' and 'political inclusiveness,' as a result of the need of those who govern to win a majority of votes. It is theoretically grounded in structural-functionalism—and behind it, the positivist focus on the separate aspects and the external relations of things—in which the different spheres of the social totality are independent, each performing systems maintenance functions and externally related to each other in a larger Parsonian 'social system.' Democracy is limited to the political sphere, and revolves around process, method and procedure in the selection of 'leaders.' This is an institutional definition of democracy....
"The concept of polyarchy is an outgrowth of late nineteenth and early twentieth-century elite theories developed by Italian social scientists Gaetano Mosca and Vilfredo Pareto. ...[T]hese theories were developed to legitimize the rapid increase in the concentration of wealth and political power among dominant elites, and their ever-greater control over social life, with the rise of corporate capitalism.... In the later part of their careers, Mosca went on to argue that 'democratic' rather than fascist methods are best suited to defend the ruling class and preserve the social order, whereas Pareto went on to embrace fascism as the best method....
"The institutional definition embodied in polyarchy came to substitute, at the level of mainstream Western social science, the classic definition of democracy....
"In its Parsonian-Schumpeterian version, the polyarchic definition of democracy is equated with the stability of the capitalist social order." —William I. Robinson, Promoting Polyarchy: Globalization, US intervention, and hegemony (1996), pp. 49-51.
"As an essentially contested concept, polyarchy competes with concepts of popular democracy....
"In sharp contrast to polyarchy, popular democracy is concerned with both process and outcome.... Popular democracy is thus distinguished from the polyarchic focus on process only, and from the focus of the statist models of the former Soviet bloc on outcome only (and the concept of popular democracy should not be confused with the types of political system that developed under the former Soviet bloc).... Popular democracy... posits democracy as both a process and a means to an end—a tool for change, for the resolution of such material problems as housing, health, education, access to land, cultural development and so forth. This entails a dispersal of political power formerly concentrated in the hands of elite minorities, the redistribution of wealth, the breaking down of the structures of highly concentrated property ownership, and the democratizing of access to social and cultural opportunities by severing the link between access and the possession of wealth." —William I. Robinson, ibid., pp. 56-58.

PONZI SCHEME
[To be added... ]

POOR PEASANT
1. [In China before collectivization in the 1950s:] A peasant (farmer) who owned only a very small amount of land, and few (if any) work animals and pieces of farm equipment, and who consequently had to work part of the time for landlords or rich peasants, in addition to working his own land.
2. Someone in a similar situation at other times and places.
See also: CHINA—Class Analysis Before 1949

POPPER, Karl (1902-1994)
Austrian-British bourgeois philosopher strongly influenced by logical positivism. [More to be added...]
See also: Philosophical doggerel about Popper.

POSITIVE AND NEGATIVE (In Dialectics)
A way of looking at dialectical development (and the mode of expression used sometimes by Hegel) in which the lasting or developing aspect of a dialectical contradiction is considered to be the positive aspect, while the aspect being overcome is considered to be the negative aspect. In Marxist discussion of dialectics it is more usual to talk about opposition than it is positive vs. negative.

"It is in this dialectic as it is here understood, that is, in the grasping of opposites in their unity or of the positive in the negative, that speculative thought consists." —Hegel, Science of Logic, Introduction, section 69.

POSITIVISM
One of several related bourgeois idealist empiricist philosophies, especially these two:
1. The theory founded by the French philosopher Auguste Comte (1798-1857), which denies the possibility of ever coming to know the inner connections and relations of things in the world, and denies the capability of philosophy as a means of knowing and changing the objective world. Philosophy is instead reduced to merely summarizing the data obtained by the sciences and a superficial description of direct observation, or—in other words—to what they call "positive" facts. These Comtean positivists view themselves as being "above" idealism and materialism, but in fact their doctrine is merely a variety of subjective idealism.
2. LOGICAL POSITIVISM

POSSIBILISTS (Or: Broussists)
Political opportunists always like to chant that "politics is the art of the possible". They often use this argument to justify the abandonment of matters of principle and their accomodation to the policies and views of the bourgeois ruling class. One particular group in France in the late 19th century that did this was even called the "Possibilists":

"Possibilists (Broussists)—an opportunist trend in the French working-class movement of the 1880s led by Benoît Malon and Paul Brousse that repudiated the idea of a revolutionary proletarian party and renounced revolutionary struggle, believing that the muncipalities alone could ensure gradual transition to socialism. This was the opportunist policy of the 'possible', and hence the ironic name Possibilists, coined by Guesde. Towards the end of the eighties, with the support of opportunist elelments in other countries, notably Hyndman of the British Social-Democratic Federation, the Possibilists tried to capture the leadership of the international working-class movement. However, most of the socialist organizations refused to follow their lead and sent delegates to the Marxist congress in Paris (July 14-20, 1889), at which the Second International was inaugurated. Engels systematically exposed their [the Possibilists'] splitting activities. In 1902, in conjunction with the other reformist groups, the Possibilists founded the French Socialist Party, which in 1905 merged with the Socialist Party of France [which had been founded in 1901]. In the imperialist war of 1914-18 Guesde and the other French socialist leaders became social-chauvinists." —Note 46, Lenin: SW I (1967).

POST-CONSTRUCTIVISM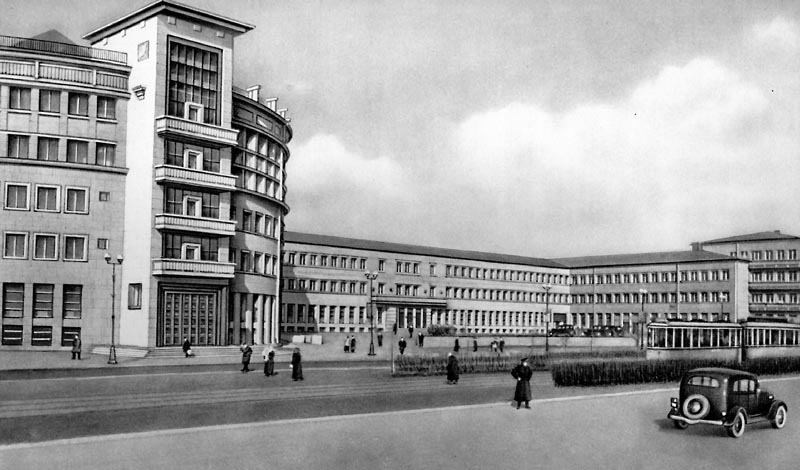 [Sometimes without the hyphen.] A transitional architectural style in the Soviet Union in the 1930s (especially 1932-36), sometimes called the "early Stalinist" style. It is considered to be a stage of architectural design between the avant-garde Constructivism of an earlier period and the neoclassical style of the later Stalin era. Most of these buildings had simple rectangular shapes and large glass surfaces (typical of Constructivism), "but with ornate balconies, porticos and columns (usually rectangular and very lightweight)".
Prominent architects working in this style included Ilya Golosov, Vladimir Vladimirov, and Igor Fromin. Post-constructivism was often similar to Art Deco, or Soviet architectural adaptations of styles similar to Art Deco.

POSTMODERNISM
[Sometimes with a hyphen.] A cynical, even nihilistic, trend in modern bourgeois philosophy (especially Continental philosophy) that denigrates concepts such as objectivity and reality and that denies there is any such thing as scientific truth in any sphere. [More to be added...]
See also: DECONSTRUCTIONISM

POTENTIAL OUTPUT [Bourgeois Economics]
The output (as measured by GDP) of a capitalist economy during a given period when all its capital and technology are fully put to use. In other words, the output if all the machinery in all the factories was put to good use by the appropriately skilled labor force.
At least that is what potential output is supposed to be in theory! In actuality, bourgeois economists are driven to cheat on this definition in a whole variety of ways. First, they acknowledge that at any given time there are a lot of machines which are not being utilized, and even some entire factories closed down, but say that it would be impossible to put all of them into full use because if all the companies involved tried to do that at the same time there would be shortages of raw materials, fuel, and so forth! Of course that is true, but if all these companies were to gradually crank up all their machines and factories, there would soon be much more raw materials produced. So this type of excuse is really pure baloney. After all, it is these same apologists for capitalism that claim that the market will soon correct for any short-term shortages!
Another excuse for not counting all the idle machines and factories is the claim that a certain portion of them are not intended to be used full time. Instead, companies keep a certain amount of excess capacity around just to meet occasional bursts in demand.
Yet another way in which the real potential production of companies (and the economy as a whole) is grossly underestimated is through counting "full production" as being based on "current industry standards", which—given the steady overproduction of capital—keep getting lowered. If a company were really going all out to produce all it could, for example, it would be operating its production facilities around the clock, in three shifts. But if effective demand has long since been far exceeded by the expansion of capital, the "industry standard" might now be to operate only one or maybe two shifts.
Through phony methods and excuses like these, the actual estimates by bourgeois economists of what the "potential output" of a capitalist economy is get grossly understated. Nevertheless, even given these maneuvers, these economists still need to admit at times of recession (at least) that the economy is not producing up to its "full potential". This is embarrassing for them because their own economic theory states that capitalist economies always will produce at full capacity (barring "external forces"). Their adherence to "Say's Law" forces them to claim, as Ricardo loved to say, that any amount of capital can and will be put to good use.
Reality shows otherwise, and even bourgeois economists are forced to admit the existence of "output gaps" between actual production and potential production.
See also: CAPACITY UTILIZATION RATES, OKUN'S LAW

POTTIER, Eugène (1816-1887)
The author of the superb poem that was later set to music as the proletarian anthem, The Internationale.

"A poet of the Paris Commune. Born in a Paris worker's family, he became a worker at the age of 13. He wrote many militant poems calling on the French workers to fight the bourgeoisie. He actively participated in the 1848 revolution in France. He later joined the First International. When the Paris Commune was established in 1871, he was elected a Member of the Commune, and took part in fierce battles during the revolution. A few days after the failure of the revolution, he wrote the poem The Internationale. Seventeen years later worker-composer Pierre Degeyter set Pottier's verse to music, and the battle song of the proletariat of the whole world was born." —Note to an article on the Paris Commune, Peking Review, vol. 14, #13, March 26, 1971.

POVERTY
The condition of lacking the usual or socially acceptable minimum amounts of money and material possessions; in other words, being quite poor. This often implies shortage of food, hunger, deficient nutrition, poor or unavailable health care, poor quality housing or even homelessness, lack of access to educational opportunities, and so forth.
Capitalism as a socioeconomic system is unable (or unwilling) to prevent a significant portion of the population from living in poverty, even in the richest and most advanced capitalist-imperialist countries which steal enormous amounts of wealth from the rest of the world. The level of poverty in any given country depends on a variety of factors, many of which can vary over time. There is always much higher levels of povery in "Third World" countries, which are exploited by foreign imperialism. And poverty levels generally fluctuate somewhat with capitalist economic cycles, and increase substantially in periods of economic crisis.
Most governments rather arbitrarily set what they call a poverty line, or level of income below which a person or family is considered to be "in poverty". This line is virtually always set absurdly low in order to try to hide the true extent of real poverty that exists. Even so, the poverty levels in the United States today are quite high and expanding rapidly. In 2009, by this government standard, 14.3% of Americans lived in poverty, which is the highest level in 15 years. That's a total of 44 million people, or 1 in 7. Among children, 1 in 5 lives in poverty. All this in the richest country in the world. [Statistics from a Census Bureau report, quoted in the New York Times, Sept. 16, 2010.]
See also below and: SOCIAL JUSTICE INDEX, WORLD POVERTY

POVERTY LINE
A dividing line in income levels below which everyone recognizes that a family is living in poverty, and slightly above which is not at all considered as poverty by the well-to-do bourgeois assholes who specify the line and who would squeal like stuck pigs if they were forced to live on even just 10 times as much!
For the year 2009 the official U.S. poverty line was $10,830 for a single adult, and $22,050 for a family of four.
See also the entry for POVERTY just above.

POVERTY OF PHILOSOPHY, The [Book by Marx]
An early work by Marx, which was written in French in 1847. The full title was The Poverty of Philosophy. Answer to the "Philosophy of Poverty" by M. Proudhon. Marx's book was thus his critique of the anarchist Pierre Joseph Proudhon's political, economic and philosophical system. In this work Marx also gave considerable attention to criticizing Hegel's idealist dialectics, to working out the basic ideas of materialist dialectics, and to creating the foundations of Marxist political economy.
In a letter to Marx (on May 12, 1851) commenting on this book Ferdinand Lasalle said that Marx showed himself to be "a Hegel turned economist, a Ricardo turned socialist". And there is indeed something essential about Marxism ever since, that it combines philosophy, political economy and politics into an integrated and coherent whole.

"POWER PROJECTION"
A bourgeois ephemism for militarism and imperialist war or threats of war.



---



Dictionary Home Page and Letter Index