GIG WORK
A short-term job, usually without any benefits. The word 'gig' in this sense probably comes from its early use by jazz musicians (and later by musicians in general) to refer to a paid engagement, often for just a single evening. However, there has been in recent years a major transformation of many jobs in the U.S. and other countries towards changing what were previously steady or permanent jobs into a series of "gigs" with no guarantees whatsoever that further work will be available at the end of each gig. Moreover, there were often substantial benefits won by workers who had these steady and relatively secure jobs, including health and vacation benefits, and retirement plans. A primary reason why capitalists are rapidly switching to gig work (or contingent work, contract labor or part time work, as they variously call it) is to end these benefits. In other words, the switch to gig work is for the purpose of effectively decreasing worker's total compensation and increasing capitalist profits.
A recent study found that 29 percent of the San Francisco workforce is now part of the "gig economy", which it claimed is on a par with the rest of the country. The capitalists call this trend "increasing labor market flexibility", but in plain English it is simply a matter of driving ever wider sections of the working class down for the purpose of maintaining and increasing profits, especially in a time of economic crisis for the capitalist system. It is a matter of intensifying the capitalist exploitation of the working class.
See also: CONTINGENT WORKERS, CYBERTARIAT, PRECARIOUSNESS OF THE PROLETARIAT, PRECARIAT
"Eyes for the gig, but how's the bread?" —Lester Young, famous jazz saxophonist. [Translation: The engagement looks good to me, but how much are they paying?]
"With the steady paycheck disappearing for ever more workers, income volatility—and all the accompanying financial and psychological stresses—is rising sharply in the United States.
"Tens of millions of working Americans are either independent contractors, work part time, or are self-employed. 'Payday' is becoming as anachronistic as the paper paycheck. This would not be such a problem if these workers were in the highly paid 'gig economy' or had substantial savings.
"But they aren't, and they don't. Most Americans affected by income volatility are retail or restaurant workers, house cleaners and child- and elder-care wokers. They earn roughly $10 per hour and are scheduled for six hours of work one week and 45 another. They are among the 62 percent of Americans with less than $1,000 in savings. A higher minimum wage, an expanded Earned Income Tax Credit, improved retirement and 'rainy day' savings plans may help, but none really addresses the problems.
"[One investigation] ... found that low- and moderate-income households had average income swings of more than 25 percent during at least five months of the year. One month, you can pay the rent and put food on the table; the next, you fall behind on your bills, borrow money, and try to skimp on an already skimpy budget." —Andrew L. Yarrow, "Unpredictable Work Hours and Income Take Their Toll", San Francisco Chronicle, July 24, 2016, p. E7.
GINI COEFFICIENT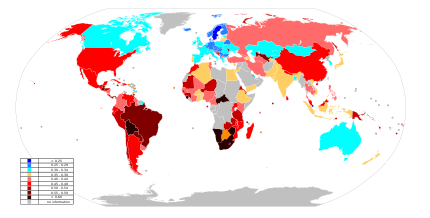 A statistical measure of the degree of inequality. Although this measure can be used with regard to any statistical data set, it is most commonly referred to in reference to the relative inequality of personal income or wealth within the population of some particular country or region. A Gini coefficient of 0 means that there is no inequality whatsoever, while a Gini coefficient of 1 means that there is the most extreme inequality possible (e.g., one person having everything, and everybody else having nothing at all).
The global map at the right shows which countries have the least and the greatest inequality of personal income. The dark blue countries have the least inequality (with a Gini coefficient of less than 0.25), and the countries in dark red-brown have the most inequality of incomes (with Gini coefficients greater than 0.60). Here are the specific Gini values for selected countries:

GINI COEFFICIENTS OF SELECTED COUNTRIES
(For Personal Income)
Country
Gini
Coefficient
Year
Comments
Sweden
0.23
2009
Currently the world's least
inequality of income.
Germany
0.27
2006


European Union
0.31
2005


Greece
0.33
2005


India
0.368
2004


Turkey
0.41
2007


Venezuela
0.41
2009


Russia
0.423
2008


Philippines
0.458
2006


United States
0.468
0.463
0.462
0.428
0.403
0.394
2009
2007
2000
1990
1980
1970
U.S. Census Bureau data.
China
0.474
0.47
0.415
0.40
2012
2009
2007
2001
CIA figure.
World Bank figure.
CIA figure.
CIA figure.
Nepal
0.472
2008


Mexico
0.482
2008


Peru
0.52
2008


Brazil
0.567
2005


Namibia
0.707
2003
Currently the world's greatest
inequality of income.
Primary source: CIA World Report (2009). For more countries, see also:
http://en.wikipedia.org/wiki/List_of_countries_by_income_equality#cite_note-4
Even in the best of countries (Sweden) the degree of equality of income is really not all that good. The Gini coefficient values are rising almost everywhere (and in the U.S. and China especially), which means there is an ever greater concentration of income and wealth in the world. Europe is still relatively more equal than most of the world because of the long history of welfare states—which, however, are now in the process of being dismantled as the world capitalist economic crisis continues to develop. The World Bank says that, in the poorest countries at least, a Gini value greater than 0.40 is a predictor of future social unrest.
For further information about the Gini coefficient, including details about its mathematical definition, see the Wikipedia entry at: http://en.wikipedia.org/wiki/Gini_coefficient