ULTRA-IMPERIALISM
[Sometimes without the hyphen.] The theory that capitalist-imperialism will, has, or at least might, develop into a stage where there is a single, unified imperialist system under the cooperative control of all the imperialist countries, and where there is no serious contention among these imperialist countries that can lead to inter-imperialist war. This theory was promoted by Karl Kautsky in the period which, ironically, led up to World War I—the first of the two disastrous inter-imperialist world wars of the 20th century. The theory was ferociously opposed by Lenin, who argued that the idea of ultra-imperialism was "ultra-nonsense" [LCW 22:271]. However, while Lenin was certainly correct to condemn the theory of ultra-imperialism at that time, and—moreover—the theory really is essentially both undialectical and ultimately downright wrong in general, there needs to be further discussion of the topic in light of the developments within world imperialism following World War II. (See next entry below.)
The idea of "ultra-imperialism" is connected to the more general revisionist notion that capitalism was developing into a less anarchic and more organized and stable form, both within individual countries and on a world scale. Supposedly this meant that capitalist economic crises would soon be a thing of the past, as would imperialist wars. Needless to say, this is not at all how things have worked out for capitalist-imperialism over the past century!
This picture of "organized capitalism" was especially promoted by the Austrian semi-Marxist economist, Rudolf Hilferding. There were inklings of this view in his famous 1910 book Finance Capital which were then elaborated by him in 1915. Part of the germ of the idea of both "organized capitalism" and "ultra-imperialism" lies in Hilferding's notion of a universal or "general cartel", a stable international cartel of capitalist companies which organizes the production and sale of more or less all commodities over the entire world. (Though, in that book, Hilferding says that such a universal cartel must soon collapse.) [See: Hilferding's Finance Capital, English translation ed. by Tom Bottomore, 1981, pp. 234-5 & 296-7.] Soon after writing that book, however, Hilferding became convinced by his own flights of fancy that organized capitalism was in fact possible and developing. He generalized way too much on the situation in Germany and Europe before World War I, and grossly underestimated the contradictions between the imperialist powers that led to world war and to the breaking down of international cartels.
The roots of the notion of ultra-imperialism lie in Hilferding and other earlier revisionists. And, as Lenin points out [LCW 22:293-4] even the non-Marxist writer John Hobson broached the same idea, though he called it "inter-imperialism" rather than ultra-imperialism. However, Karl Kautsky was the individual who most directly promoted the theory. After arguing that imperialism is merely an optional "policy" that contemporary capitalists had adopted (and not at all something that was inherent to modern capitalism), he went on to say:
"From the purely economic standpoint it is therefore not excluded that capitalism may yet experience a new phase, namely the transposition of the policy of the cartels to the realm of foreign policy—in other words, a phase of ultra-imperialism, which naturally we would have to combat as energetically as we combated imperialism, but the danger of which would take a different form, not a world arms race and threat to world peace."
—Karl Kautsky, "Wirkungen des Krieges" ["Results of the War"], Die Neue Zeit, XXXII, 1913-1914, vol. II, p. 921; English translation in: Massimo Salvadori, Karl Kautsky and the Socialist Revolution: 1880-1938 (Verso: 1990), p. 189. [This article was written before the start of World War I, but revised slightly before publication after the start of that war.]
In 1915, nine months after writing the above, Kautsky recognized that for the present the world war was blocking the development of ultra-imperialism, but still hoped and supposed that it might yet develop after the end of the war:
"The retreat of the movement for protective tariffs in England, the reduction of tariffs in America, the efforts at disarmament, the quick reduction of capital exports from France and Germany in the last few years before the War, and finally the growing international interpenetration of the various cliques of finance capital caused me to consider whether it might not be possible for the present imperialist policy to be pushed aside by a new ultra-imperialist one, which replaces the struggle of national finance capitals against each other by the joint exploitation of the world through internationally allied finance capital. Such a new phase of capitalism is, in any case, imaginable. The necessary preconditions are still lacking to decide whether it is also realizable.... The present war ... can totally stamp out the weak sprouts of ultra-imperialism by greatly increasing the national hatred also of the finance capitalists, by spurring on the armaments race, by making a second world war inevitable.... But the war can also ... strengthen the weak sprouts of ultra-imperialism.... Temporarily, ... ultra-imperialism could bring an era of new hope and expectations within capitalism."
—Karl Kautsky, "Zwei Schriften", Die Neue Zeit 33 (April 30, 1915), pp. 144-45. English translation in: John H. Kautsky [Karl's grandson], Karl Kautsky: Marxism, Revolution & Democracy (1994), pp. 11-12. [Some of the sentences also appear, in slightly different translation, in LCW 22:293.]
Lenin ridiculed the theory of ultra-imperialism in a variety of ways: For example, in response to Kautsky's remarks about looking at the issue from the purely economic standpoint, he wrote:
"If the purely economic point of view is meant to be a 'pure' abstraction, then all that can be said reduces itself to the following proposition: development is proceeding towards monopolies, hence, towards a single world monopoly, towards a single world trust. This is indisputable, but it is also as completely meaningless as is the statement that 'development is proceeding' towards the manufacture of foodstuffs in laboratories. In this sense the 'theory' of ultra-imperialism is no less absurd than a 'theory of ultra-agriculture' would be.
"If, however, we are discussing the 'purely economic' conditions of the epoch of finance capital as a historically concrete epoch which began at the turn of the twentieth century, then the best reply that one can make to the lifeless abstractions of 'ultra-imperialism' (which serve exclusively a most reactionary aim: that of diverting attention from the depth of existing antagonisms) is to contrast them with the concrete economic realities of the present-day world economy. Kautsky's utterly meaningless talk about ultra-imperialism encourages, among other things, that profoundly mistaken idea which only brings grist to the mill to the apologists of imperialism, i.e., that the rule of finance capital lessens the unevenness and contradictions inherent in the world economy, whereas in reality it increases them."
—Lenin, Imperialism, the Highest Stage of Capitalism, (January-June 1916), LCW 22:271-2.
Later in that same work Lenin says:
"[T]he only objective, i.e., real, social significance of Kautsky's 'theory' is this: it is a most reactionary method of consoling the masses with hopes of permanent peace being possible under capitalism, by distracting their attention from the sharp antagonisms and acute problems of the present times, and directing it towards illusory prospects of an imaginary 'ultra-imperialism' of the future. Deception of the masses—that is all there is in Kautsky's 'Marxist' theory." —Lenin, ibid., LCW 22:294.
There is much additional criticism of Kautsky's theory of ultra-imperialism in Imperialism, the Highest Stage of Capitalism and other works by Lenin. Nikolai Bukharin also strongly criticized the theory of ultra-imperialism in Chapter 12 of his 1915 book Imperialism and World Economy, as did Lenin in the introduction to that work. [Bukharin's book with Lenin's introduction is available at: https://www.marxists.org/archive/bukharin/works/1917/imperial/index.htm ]
See also below, and: WORLD IMPERIALIST SYSTEM
"ULTRA-IMPERIALISM TODAY"
Although the theory of ultra-imperialism was obviously totally ridiculous in Lenin's era and at least until after World War II, what about all the major changes and developments in world imperialism which occured after that war? Didn't the change from old-style colonial imperialism to the new neocolonialism and the advent of the present-day single World Imperialist System, with its major organizational agencies including the IMF, the World Bank and the World Trade Organization, show that Kautsky was right after all, even if he was way too premature in his expectations in 1914?
There are those who claim so. The anti-communist intellectual, George Lichtheim, who nevertheless called himself a "socialist", wrote that Kautsky's "gloomy vision" of ultra-imperialism, "of a global cartel linking all the industrially advanced centers of the world ... first formulated in 1914 by the principal theorist of the Second International, looks remarkably modern today: more so than the productions of the rival Leninist school." [Lichtheim, Imperialism (1971), p. 12.] Another writer claimed that "From a present-day perspective it seems that Kautsky was right: Capitalism has in fact survived two great wars and has reached the phase of 'ultra-imperialism'." [Narihiko Ito, "Karl Kautsky und Rosa Luxemburg," in Jürgen Rojahn, et al., Marxismus und Demokratie: Karl Kautskys Bedeutung in der sozialistischen Arbeiterbewegung (1992), p. 161.]
What is missing here is a dialectical approach, a longer viewpoint and an ability to look at major social processes as they develop over a prolonged period. For the two or so decades before World War I it also looked to many that an international social stability had arrived and that wars, at least major wars between advanced countries, would no longer occur. Civilization had (supposedly) triumphed once and for all! And even to some on the Left, such as Hilferding and Kautsky, it looked as though the economic roots of inter-imperialist contention were rapidly disappearing, and they pointed to the rise of international cartels as "proof" of that. And yet World War I came along almost before they got these words out of their mouths, and those international cartels crumbled. The apparent and temporary stability and era of peace collapsed and turned into its opposite.
Yes, a cooperative organization of imperialist powers did start to come into existence at the end of World War II. At first it consisted only of the victorious imperialist powers in that war, dominated—of course—by the United States, but also including Britain, France, Belgium, Holland, Canada and a few other advanced capitalist countries. But very soon the defeated Axis powers (Germany, Japan and Italy) were also brought into it. Once capitalism was restored in the USSR, and for a period of 35 years, there were then two competing imperialist systems, the "West" and the social-imperialist Soviet Union and its sphere of control (the so-called "Socialist Bloc"). After the USSR collapsed in 1991, Russia and the other countries in the Soviet bloc also merged (with varying degrees of success) into what was then the single remaining imperialist system. After Mao's death in 1976 China also took the fast road back to capitalism, and with its admission to the WTO in 2001, and its mushrooming export of capital thereafter, became a full participant in the World Imperialist System itself. [See: N.B. Turner, et al., Is China an Imperialist Country? Considerations and Evidence (2014), available online at: http://www.bannedthought.net/International/Red-Path/01/RP-8.5x11-IsChinaAnImperialistCountry-140320.pdf ]
So it is true that at least by the year 2001 (if not a decade earlier) there had arisen a single World Imperialist System which has operated in something like the way that Kautsky and the other proponents of the existence of ultra-imperialism envisioned. (One of the big differences from his conception, however, is the absence of any universal cartel in the contemporary world today, and its replacement by numerous multinational corporations generally headquartered in their own mother countries, along with the international imperialist regulatory agencies, the IMF, the World Bank, and the WTO.)
If (contrary to the actual situation) this were a permanent new stage for world imperialism then we might indeed have to say that Kautsky was more or less right in the long run, even if his musings were grossly premature and served a reactionary purpose back in 1914. But in point of fact this period of unified and cooperative imperialist exploitation of the world is quite temporary and is already showing very serious signs of breaking down. In the decades since World War II U.S. imperialism has been slowly but steadily losing ground relative to the other imperialist countries. And the advent of China as a new and much more vibrant and rapidly growing capitalist-imperialist country has really thrown a monkey wrench into the existing mechanisms of world imperialism. Since the U.S. has refused to give up its dominance of the IMF, WB and WTO, China—with the support of growing numbers of other countries in the BRICS grouping and beyond—has been moving to establish alternative institutions which it and its partners, and especially Russia, dominate. We see before us in the world today the beginning split of the existing World Imperialist System into two hostile and competing imperialist blocs once again! And accompanying this split we see once again the rising potential for yet another inter-imperialist world war at some point in the not-so-distant future, or at the very least, a series of proxy wars between these two competing imperialist systems.
Of course there have been periods in the history of the development of capitalist-imperialism in which growing cooperation among the imperialist powers appears as not only the dominant but also the permanent trend. These periods are often referred to as eras of growing globalization. One such period was the several decades before World War I, which Lenin was well aware of and which so misled Hilferding and Kautsky. Lenin knew from the start that this period of globalization and apparently developing "ultra-imperialism" was a mirage. The second great era of globalization and of apparently developing "ultra-imperialism" has been in the last few decades and especially since the collapse of the Soviet Union in 1991. But close observers are already recognizing this as a mirage as well, since it is already in the process of breaking down once again, as the world enters a new period of intensified economic crisis and growing inter-imperialist antagonisms.
Mere interludes of inter-imperialist cooperation, globalization and peace do not change the essential nature of capitalist-imperialism and definitely do not change the essential dangerous nature of the beast.
Thus, in the final analysis, the claim that the period since the establishment of a single "unified" World Imperialist System in 1991 constitutes a genuine new "ultra-imperialist" stage of capitalism is a completely erroneous misreading of contemporary social reality. It is erroneous because that present very temporary existence of just a single World Imperialist System cannot possibly continue for long.
"Let us assume that all the imperialist countries conclude an alliance for the 'peaceful' division of these parts of Asia [China, India and Indo-China]; this alliance would be an alliance of 'internationally united finance capital.' There are actual examples of alliances of this kind in the history of the twentieth century, for instance, the attitude of the powers to China. We ask, is it 'conceivable,' ... that such alliances would be more than temporary, that they would eliminate friction, conflicts and struggle in every possible form?
"It is sufficient to state this question clearly to make it impossible for any reply to be given other than in the negative; for any other basis under capitalism for the division of spheres of influence, of interests, of colonies, etc., than a calculation of the strength of the participants in the division, their general economic, financial, military strength, etc., is inconceivable. And the strength of these participants in the division does not change to an equal degree, for the even development of different undertakings, trusts, branches of industry, or countries is impossible under capitalism. Half a century ago Germany was a miserable, insignificant country, as far as her capitalist strength was concerned, compared with the strength of England at that time; Japan was the same compared with Russia. Is it 'conceivable' that in ten or twenty years' time the relative strength of the imperialist powers will have remained unchanged? Absolutely inconceivable.
"Therefore, in the realities of the capitalist system, and not in the banal philistine fantasies of ... the German 'Marxist,' Kautsky, 'inter-imperialist' or 'ultra-imperialist' alliances, no matter what form they may assume, whether of one imperialist coalition against another, or of a general alliance embracing all the imperialist powers, are inevitably nothing more than a 'truce' in periods between wars. Peaceful alliances prepare the ground for wars, and in their turn grow out of wars; the one conditions the other, giving rise to alternating forms of peaceful and non-peaceful struggle out of one and the same basis of imperialist connections and relations within world economics and world politics."
—Lenin, Imperialism, the Highest Stage of Capitalism, (January-June 1916), (Peking: FLP, 1975), pp. 143-5; and in a slightly different translation in LCW 22:295. [Lenin is being proven correct on this important point, even after the transformation of old-style colonial imperialism into neocolonialism and the temporary development of a single World Imperialist System over the past few decades. It is precisely the uneven development of capitalism following the overthrow of socialism in China which has now led to the rise of Chinese imperialism (in alliance with Russia and other powers) as a major challenger to the supposed peaceful era of "ultra-imperialism" under the leadership of the United States. —Ed.]
UNCERTAINTY [Philosophy of Science]
Some things are certain; that is, some beliefs are certainly true, and have been established beyond any reasonable doubt—such as that the earth revolves around the sun. But many beliefs, even some which are ordinarily assumed to have been well-established by scientific investigation and experiment, are still somewhat uncertain to varying degrees. Having a balanced perspective on this matter is an important issue in having a genuinely scientific approach to the world. In the past, especially when religious dogmas were far more pervasive, way too much was thought to be known for certain. This included many beliefs which are now known for certain to be false—such as that the earth is flat or that it is the center of the universe. On the other hand, in the modern period since World War I, when so much doubt about the very future of humanity has arisen in the minds of those who dominate society (the capitalist ruling class), ideologies which grossly exaggerate the degree of uncertainty in the world have become quite pervasive. Postmodernism in academia is one clear example of this, as are other forms of epistemological agnosticism.
As Mao put it, "Doubting is correct; doubting everything is not." [Note in the margin of Mao's copy of the book by Marxist philosopher Ai Siqi, Philosophy and Life. In Nick Knight, ed., Mao Zedong on Dialectical Materialism (1990), p. 237.] Some considerable degree of skepticism is indeed appropriate in science, in politics and in life in general. But total skepticism is never justified and is totally absurd. In science we must train ourselves to be more skeptical of ideas which are less-well tested, less-well supported by evidence, and less-well thought out (i.e., less fully raised to the level of coherent scientific theory). As has been well said: Uncertainty is inevitable at the frontiers of knowledge. But we must also acknowledge that many things about the world and human society are now known beyond any rational doubt. Within Marxist theory too there is room for, and a need for, some caution and skepticism, even though we know for certain that a great many principles of Marxism-Leninism-Maoism have been proven to be certainly true.
See also the essay: "Do We Know For Certain that the Earth Goes Around the Sun?", by S.H. (Nov. 14, 1997), online at: http://www.massline.org/Philosophy/ScottH/certain.htm
UNDERCONSUMPTIONISM — Marx's Supposed Rejection Of
There are a great many statements in Marx's Capital, and in his other writings (including Theories of Surplus Value), in which he makes clear that his basic theory of capitalist economic crises is the Overproduction Theory. And, indeed, Marx even calls these crises by the name overproduction crises. However, as the introductory entry on UNDERCONSUMPTIONISM above notes, there are two competing crisis theories in Marx's writings: the anarchy theory and the falling rate of profit theory. Those who favor one or the other of these theories instead of the overproduction theory prefer to call that theory "underconsumptionism". And they have scoured Marx's writings looking for the slightest clue that he also rejected "underconsumptionism". They've found very few such statements, and even those are totally misconstrued. The specific passage from Marx which has been cited most often is the following from volume II of Capital:
"It is sheer tautology to say that crises are caused by the scarcity of effective consumption, or of effective consumers. The capitalist system does not know any other modes of consumption than effective ones, except that of sub forma pauperis [in the form of the pauper] or of the swindler. That commodities are unsaleable means only that no effective purchasers have been found for them, i.e., consumers (since commodities are bought in the final analysis for productive or individual consumption). But if one were to attempt to give this tautology the semblance of a profounder justification by saying that the working-class receives too small a portion of its own product and the evil would be remedied as soon as it receives a larger share of it and its wages increase in consequence, one could only remark that crises are always prepared by precisely a period in which wages rise generally and the working-class actually gets a larger share of that part of the annual product which is intended for consumption. From the point of view of these advocates of sound and 'simple' (!) common sense, such a period should rather remove the crisis. It appears, then, that capitalist production comprises conditions independent of good or bad will, conditions which permit the working-class to enjoy that relative prosperity only momentarily, and at that always only as the harbinger of a coming crisis." —Marx, Capital, Vol. II, chapter 20, part 4, (International ed., pp. 410-411; Penguin ed., pp. 486-487.)
First of all, just who is Marx criticizing here? Engels, who edited volume II, comments in a footnote to this paragraph that "possible followers of the Rodbertian theory of crises" should take note of this passage. So we immediately see that Marx's comments were directed against naïve underconsumptionists such as Rodbertus, and not at all against the whole notion that underconsumption by the masses is a central aspect of capitalist crises.
In fact, Marx makes it absolutely clear that underconsumption is indeed central to crises in the first sentence in the above passage where he says that "It is a sheer tautology to say that crises are caused by the scarcity of effective consumption, or of effective consumers." Several times over the years I've heard people quote that sentence as part of their attacks on "underconsumptionism". I've often wondered—do these people even know what a tautology is? To say that something is a tautology is definitely not to say that it is false, as some of these people seem to think! But it is true that Marx wanted to emphasize here that the forced underconsumption by the masses is by no means the whole story—that though it is certainly true, there are also other contradictions involved in crises.
There is another critical sentence in the above passage which I'll repeat, but this time with the key part of it—the part that is unaccountably neglected by many—put in bold type: "But if one were to attempt to give this tautology the semblance of an profounder justification by saying that the working-class receives too small a portion of its own product and the evil would be remedied as soon as it receives a larger share of it and its wages increase in consequence, one could only remark that crises are always prepared by precisely a period in which wages rise generally and the working-class actually gets a larger share of that part of the annual product which is intended for consumption."
It should be clear once again here that Marx is by no means denying that crises are in fact ultimately caused by the fact that the working class receives wages which cover only a part of the value which they create. But his point is that the complexities of the contradictions involved in crises, and the complicated way they develop, means that simply raising wages cannot possibly prevent crises from breaking out. This is true for any number of reasons. It is true because even if wages are raised, workers will still be exploited (though to a lesser degree). Capitalism cannot continue without the continuous extraction of surplus value from the workers. But more to the immediate point, it is also true because crises are postponed by means of the expansion of credit—consumer credit, government deficits, and so forth. So when these financial bubbles pop we have a crisis—even though wages are typically increasing at the time. To imagine that crises can be prevented by simply raising workers wages—even by raising them substantially—is in large part to fail to understand all the many additional contradictions at work on top of the most basic contradictions.
Marx's point—in emphasizing that wages usually rise in the period just before crises break out—is that simple-minded crisis theories which recognize only that the consumption of the masses is forcibly restricted are completely inadequate. It's not that Rodbertus was wrong about this basic point; on the contrary he was entirely correct about it. But this much is totally obvious; it is a "mere tautology." What Rodbertus and others like him could not do was work out the full story, and explain all the additional mechanisms at work which both prevent crises for a time, but then inevitably lead to their sudden outbreak just when it seems the capitalist economy will fly forward unimpeded forever.
I should also add here that while what Marx says in the above passage is certainly true, it is a bit misleading in another way. A substantial increase in the real wages of the workers—either through actual wage raises, or a fall in consumer prices, or a cut in workers' taxes—can in fact help to postpone or possibly somewhat mitigate the severity of a crisis. But just as extending the workers more credit can only ward off the crisis to some degree and/or for a limited period of time, the same is true of any real increase in wages. Eventually a crisis will break out in any case because none of these things truly resolves the underlying contradiction—that the workers are still being paid for only part of what they produce and therefore cannot possibly buy back all of it. No increase in wages—no matter how great—can permanently prevent a new crisis from developing. If the capitalists were suddenly to all go crazy and to actually try to pay the workers enough to buy an equivalent amount to what they produce then the capitalists themselves would soon go broke and the entire system would collapse. —S.H. [From a section of my work in progress, An Introductory Explanation of Capitalist Economic Crises].
UNEMPLOYMENT — U.S.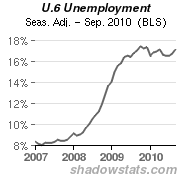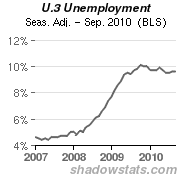 The U.S. Bureau of Labor Statistics (BLS) has many statistical series for unemployment rates. The "U-3" series, is the official unemployment rate, and the series that the government is willing to let the public see. It is therefore the series which the bourgeois media gives almost exclusive attention to. But this official unemployment rate does not include the millions of unemployed people who have gotten so discouraged by the job situation that they have not looked for work in the last few weeks. Nor does it include people who want to work full time but can only find part-time work. The "U-6" series does include many of the people in these two categories, but still excludes many other people who are actually unemployed, and who would get a job if work was available for them.
The BLS uses these official definitions:

U-3 Series: "Total unemployed, as a percent of the civilian labor force (official unemployment rate)."
U-6 Series: "Total unemployed, plus all persons marginally attached to the labor force, plus total employed part time for economic reasons, as a percent of the civilian labor force plus all persons marginally attached to the labor force."
Marginally attached to the labor force: "are those who currently are neither working nor [currently] looking for work but indicate that they want and are available for a job and have looked for work sometime in the past 12 months."
Discouraged workers are "a subset of the marginally attached, have given a job-market related reason for not currently looking for work."
Persons employed part time for economic reasons "are those who want and are available for full-time work but have had to settle for a part-time schedule." —From the notes to each month's BLS Unemployment Report.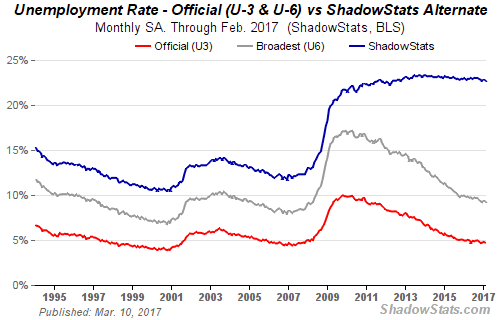 [Note that every one of these "definitions" distorts the truth. U-3 is not at all the "total unemployed" (as they go on to tacitly admit themselves!); U-6 does not include all those who would work if jobs were actually available; "discouraged workers" actually excludes a large number of those who really are discouraged about finding work; and so forth. Even the BLS's definition of the size of the labor force itself seriously distorts things (and tries to make the unemployment situation look much better than it is) by simply not counting millions of unemployed people as being in the labor force at all! —S.H.]
[Refer to the graph at the right.] "The seasonally-adjusted SGS Alternate Unemployment Rate reflects current unemployment reporting methodology adjusted for SGS-estimated long-term discouraged workers, who were defined out of official existence in 1994. That estimate is added to the BLS estimate of U-6 unemployment, which includes short-term discouraged workers." —John Williams, on his Shadow Government Statistics website at http://www.shadowstats.com/alternate_data/unemployment-charts
See also: COMPUTERS—and Unemployment
UNEMPLOYMENT — Young People
"For young people it is arguable that the employment picture is as dismal as it has been at any time since the Great Depression of the 1930s, and for college graduates it may be worse. The Federal Reserve Bank of New York in 2014 determined that 46 percent of recent college graduates were working at jobs that did not require a BA. That is bad news not only for college graduates but for high school graduates, 'who find themselves competing with college graduates for basic jobs in service businesses.' Even before the Great Recession of 2008, the Bureau of Labor Statistics forecast that two-thirds of the jobs available between 2008 and 2018 would not require any post-secondary education. As the journalist Derek Thomson concludes, 'The job market appears to be requiring more and more preparation for a lower and lower starting wage.' The Economist [magazine] announces that young people are experiencing an 'epidemic of joblessness.' Newsweek characterizes young Americans as constituting 'Generation Screwed.' There are nowhere near enough jobs, and the jobs that do exist, to employ the vernacular, suck." —Robert W. McChesney and John Nichols, People Get Ready: The Fight Against a Jobless Economy and a Citizenless Democracy (2016), pp. 69-71.
"Most of the measured declines in employment participation have been coming from younger men, not early retirees.... Adult males are seceding from the workforce—or being kicked out—in frightening numbers." —Tyler Cowen, a bourgeois economist, Average Is Over: Powering America Past the Age of the Great Stagnation (2013), p. 51. [Thus, not only are the employment rates of young adults extremely high, they are actually much worse than the statistics show because more and more young adults are not being counted as being in the labor force at all! In the late 1960s 5% of men aged from 25-54 were not working; by 2014 it had climbed to 16% according to the New York Times (Dec. 15, 2014). —Ed.]
UNEMPLOYMENT — World
The total unemployment in the entire world, from data before the severe world economic crisis struck in a major way at the end of 2008, was said to be more than 1 billion workers! (One-sixth of the entire population of the world, and a much higher than that percentage of the world's total work force!) This includes both the totally unemployed, and also those who are drastically underemployed (working only a few hours a week, whenever they can find it). [This estimate comes from Charges McMillion, chief economist at MBG Information Services, a Washington D.C. consulting firm. Quoted in The Christian Science Monitor, Feb. 21, 2010, p. 23.]
"Globally, 2.5 billion people are unemployed, underemployed, economically inactive, or engaged in subsistence labor (constituting a global reserve army almost twice the size of the world's employed labor force). The result is abysmally low wages—with 39 percent of the world's workers earning less that $2 a day. Meanwhile, multinational corporations are enjoying record profit margins from the super-exploitation of this cheap labor and the robbing of everything under the sun, thereby endangering the planet itself." —John Bellamy Foster, in a letter to supporters of Monthly Review, Sept. 2011.
UNEVEN DEVELOPMENT OF CAPITALISM AND CAPITALIST-IMPERIALISM
A law of capitalism, which is greatly intensified in the modern imperialist era of capitalism, is that different enterprises, different industries, different sectors of the economy, and production in different capitalist countries as a whole, develops very unevenly. Moreover, in different time periods there is also uneven development, including among different capitalist countries. A country which zooms ahead of others during one period may well fall behind at a later period. And it is with regard to countries, and especially countries in the imperialist era that this uneven development becomes especially significant, for it is one of the underlying factors which lead to terrible wars between imperialist countries (including World War I and World War II).
There are a wide variety of reasons which explain this uneven development among countries. Some imperialist countries may possess colonies or have rights in their neo-colonies that others do not. Some may be better prepared to export capital to other countries. Other countries which were once more victimized by outside imperialism may break free to some extent and become better able to develop their own national economy. Some countries may already be deep in debt, while others have more freedom to expand production by promoting further debt growth. Even differences in the superstructure of society may be significant, as when one country has a better developed legal system which promotes the sanctity of business contracts. Similarly, one country may have a superior educational system to another. These are just a few of the great many reasons why one capitalist country, during some given period, may be able to far outstrip the economic development of another capitalist country.
Historically, capitalism first developed in a really intensive way in Britain. This led to Britain becoming more powerful and dominant than countries like Holland and France. In 1850 the U.S. share of world industrial production was only 15%, while Britain's was 39%. Germany's share was also far below Britain's. As capitalism developed into its imperialist form in the last part of the 19th century, other capitalist countries began to catch up, especially Germany and the U.S. From 1870 to 1913 British output expanded only 2.25 times, while Germany's increased almost 6 times and the U.S. by 9 times! Britain lost its status as the sole "superpower" of that age, and World War I developed among the two contending groups of imperialist countries to see which would dominate the world. World War II was really "round two" of that contest. The U.S. emerged as by far the most powerful imperialist country, both militarily and economically. Nevertheless, in the aftermath of World War II many other capitalist countries, including defeated Germany and Japan, began developing faster than the U.S. (in large part because of the greater destruction of productive capital in those countries during the War).
Then, too, in the mid-1950s the Soviet Union was captured from within by a rising new bourgeoisie. At first, based on its tremendous economic advances during its socialist period, the Soviet Union, even as a capitalist country, continued developing faster than the U.S. But then, because of its destruction of socialism, the masses turned against the Soviet system. And the greater degree of monopoly, bureaucracy, and the growing corruption in the U.S.S.R. led to a great fall in its rate of GDP expansion. It was hopelessly losing out to the U.S. and the "Western World", and it knew it. For a while it looked very much like there would be a new world war, involving nuclear weapons, to settle the issue. (The world is very fortunate that this did not happen, because we certainly came close to it!) But then Gorbachev and the other new rulers of the Soviet Union recognized that they could not prevail that way either. The only path left to them (within the overall framework of capitalism, which is all they could comprehend or aprove of) was to switch over to Western-style monopoly capitalism. This final destruction of the Soviet Union led to an unprecedented further collapse of the economy, and even a quarter century later it has not fully recovered.
Meanwhile, the other great socialist country, China, was also captured from within by capitalist-roaders. In the socialist era China had overall been expanding its economy much faster than that of the U.S. and the "West" generally. This continued during the transition period, and then over the past couple decades has possibly even further speeded up. The Chinese revisionists have proven to be much more successful than the revisionists in the Soviet Union were in switching over to Western-style monopoly capitalism (for reasons we won't get into here). So the world today, even in the midst of a growing overall world capitalist economic crisis, is still made up of one rapidly rising imperialist power—China. This strongly suggests that there are some real dangers of a major war between China and the current top-dog imperialist country, the U.S., at some point over the next few decades.
See also: RISE AND FALL OF KEY MODERN ECONOMIES, "ULTRA-IMPERIALISM TODAY"
"Uneven economic and political development is an absolute law of capitalism." —Lenin, "On the Slogan for a United States of Europe" (Aug. 23, 1915), LCW 21:342.
"The uneven distribution of the railways, their uneven development—sums up, as it were, modern monoplist capitalism on a world-wide scale." —Lenin, "Imperialism, the Highest Stage of Capitalism", Preface to the French and German Editions, (July 6, 1920), LCW 22:190.
"It goes without saying that if capitalism could develop agriculture, which today is everywhere lagging terribly behind industry, if it could raise the living standards of the masses, who in spite of the amazing technical progress are everywhere still half-starved and poverty-stricken, there could be no question of a surplus of capital. This 'argument' is very often advanced by the petty-bourgeois critics of capitalism. But if capitalism did these things it would not be capitalism; for both uneven development and a semi-starvation level of existence of the masses are fundamental and inevitable conditions and constitute premises of this mode of production." —Lenin, "Imperialism, the Highest Stage of Capitalism", Ch. IV, (1916), LCW 22:241. [Although capitalism has now finally "developed agriculture" in the form of giant agribusiness, it has not done so for the benefit of the people, vast numbers of whom still starve to death every year around the world. —S.H.]
UNINTERRUPTED REVOLUTION
The continuation of the revolutionary process into another stage after the completion of an earlier stage. This term is especially common in reference to proceeding with a socialist revolution after the success of a democratic revolution (as occurred in Russia following the February Revolution and leading up to the October Revolution) or similarly after the success of a New Democratic revolution (as occurred in China after the revolutionary seizure of power in 1949 and leading up to the transformation of both the industrial and agricultural economies into socialism by the end of the 1950s). However, the term uninterrupted revolution can also refer to a continuing series of revolutionary struggles within a particular revolutionary process, such as the continuing stages in the development of rural collectivization in Maoist China from early forms of cooperatives, to advanced cooperatives, and eventually all the way to the People's Communes.
See also: PERMANENT REVOLUTION
"The domestic situation is the issue of the relationship with the 500 million peasants. The peasants are our allies. If they are not rallied, there will be no politics; if no attention is given to their problems, mistakes will occur. With them as our allies, we will win. Lenin also stressed the workers' and peasants' democratic dictatorship — arousing the consciousness of the rural semi-proletariat to take part in uninterrupted revolution. Some people felt that, since it took 80 years to develop capitalism, socialism could only be introduced when the workers became more numerous and the peasants conscious of themselves. But practice proved that it did not require several decades to advance from democratic revolution to socialism. The Soviet Union's February Revolution proved Lenin was correct." —Mao, "Speech at the Conference of Heads Of Delegations to the Second Session of the 8th Party Congress" (May 18, 1958), SW 8, online at: https://www.marxists.org/reference/archive/mao/selected-works/volume-8/mswv8_11.htm
"Uninterrupted revolution. Our revolutions come one after another. Starting from the seizure of power in the whole country in 1949, there followed in quick succession the anti-feudal land reform, the agricultural co-operativization, and the socialist reconstruction of private industries, commerce and handicrafts. The three great socialist reforms — i.e. the socialist revolution in the ownership of means of production — were basically completed in 1956 and there came the socialist revolution on the ideological and political front last year. This revolution may draw to the end of one stage by 1 July this year, but the problems [involved] are not yet solved. For a considerable period of time to come they will continue to be solved by annual bloom-contend-rectify-reform campaigns. [But] now we must start a technological revolution so that we may overtake Britain in fifteen or more years. Chinese economy is backward and China is materially weak. This is why we have been unable to take much initiative; we are spiritually restricted. We are not yet liberated in this sense. We must make a spurt [forward in production]. We may have more initiative in five years, and more still in ten. After fifteen years, when our foodstuffs and iron and steel become plentiful, we shall take a much greater initiative. Our revolutions are like battles. After a victory, we must at once put forward a new task. In this way, cadres and the masses will forever be filled with revolutionary fervour, instead of conceit. Indeed, they will have no time for conceit, even if they like to feel conceited. With new tasks on their shoulders, they are totally preoccupied with the problems for their fulfilment." —Mao, "Sixty Points On Working Methods – A Draft Resolution From The Office Of The Centre Of The CPC" (February 2, 1958), SW 8, online at: https://www.marxists.org/reference/archive/mao/selected-works/volume-8/mswv8_05.htm
"22. Theory of Uninterrupted Revolution and Theory of Revolution by Stages
"The development of cooperatives requires that progress be made in wave-like fashion — one wave succeeding another with a trough in between, like a valley between two peaks.
"The leadership should trim the sails according to the wind and adapt to the circumstances. And when conditions are unfavorable, they should immediately apply the brakes. At an opportune moment they should compress the people's heads, which is a necessary thing to do when heads swell.... We have need of the necessary rest, the necessary pauses, the necessary braking or closing of the gate. The method to be tried when people start wagging their tails in the air is to set forth new tasks for them, like the quality emulation drive we are now putting forward, so that they won't have time to feel haughty." —Mao, "Examples Of Dialectics" (Abstracted Compilation, 1959), example 22, SW 8, online at: https://www.marxists.org/reference/archive/mao/selected-works/volume-8/mswv8_48.htm">
UNITE, DON'T SPLIT
This is a slogan and principle strongly and continually championed by Mao Zedong, though all too often misunderstood or ignored by those who claim to be his followers.
For many people 'unity' seems to mean absolutely complete ideological agreement, and an absolute identity of conceptions about social theory, political line, strategy, tactics, policies and tasks to be done and precisely how to do them. And of course if people completely agree about everything then there will almost automatically be complete unity between them. But Mao was a dialectician, who recognized very well that people do not always agree about everything (nor should they!), even when they are in the same party and hopefully have some very considerable general political agreement. The issue then is whether or not there can be a solid organizational unity even when there is not complete unity about all ideas and issues, and about every detail about what should be done. The answer is yes, there can and must be such organizational unity if a revolution is to be successfully carried out.
The means by which organizational unity can be assured even when there is not an absolutely complete unity of ideas is known as democratic centralism. Individuals who have not come to understand that for the good of the revolution their own ideas have to sometimes be democratically subbordinated to those of others have not grasped the point of democratic centralism at all. Neither have those who imagine that democratic centralism requires everyone to totally change their own ideas and completely agree with the organization about every single thing. Party members must continue to think; they have a right and duty to continue to hold to their beliefs and champion them at the appropriate times; but they also have the absolute obligation to put into practice to the very best of their ability the line and policies that the party has decided on through its democratic centralist procedures. They have the democratic-centralist obligation to unite, and not split.
"It is very bad to whisper behind people's backs and not to speak out to their faces. We should have general agreement — at least in principle. We should be able to speak either more sharply or more tactfully, but we must speak out. Sometimes we must be sharp and clear-cut. But in any case, if we take our desire for unity as our starting-point and adopt a helpful attitude, then sharp criticism cannot split the Party, it can only unite the Party. It is very dangerous to leave unsaid things which you want to say." —Mao, "Talks At The Chengtu Conference", Talk of March 22, 1958, SW6 [published in India], online at: https://www.marxists.org/reference/archive/mao/selected-works/volume-8/mswv8_06.htm
"I hope that you will practice Marxism and not revisionism; that you will unite and not split; that you will be sincere and open and not resort to plotting and conspiracy." —Mao, "Talks With Responsible Comrades at Various Places During Provincial Tour", from the middle of August to 12 September 1971, SW9:441. Online at: https://www.marxists.org/reference/archive/mao/selected-works/volume-9/mswv9_88.htm
UNITED STATES ECONOMY — Productive Power Of
Capitalism, as Marx explained, is a a socioeconomic system with vast potential for massive production, and also for very rapid further expansion of the means of that production (i.e. factories and machinery). The problem is that it also contains a fundamental internal contradiction (between the social character of production and the private appropriation of the goods produced) which inevitably leads to economic crises which interrupt, drastically slow down or even completely stop or reverse that growth of production. And all of this is particularly true of the economies of the largest and most developed capitalist countries, such as the United States.
If the complete potential productive power of even the present U.S. economy were put to full use for the benefit of the people (something which is actually impossible under capitalism) not only could all poverty in this country be immediately eliminated, not only could the standard of living for all the masses be vastly and immediately raised, not only could education and public services be hugely expanded, improved and made completely free—but all this could be done while at the same time providing jobs for everyone and lowering the average hours worked by those with jobs! The potential productive power is there to do all this, but the capitalist profit motive and its relations of production prevent it from actually happening.
This enormous productive potential of American industry is recognized very broadly, by liberals and conservatives and by most capitalists themselves. But what none of them can understand, because of their ideological blinders, is why this capitalist utopia never seems to actually come about. Why is it that all the past predictions of a comfortable future for all, with only very short work weeks required, instead keeps turning into a worsening nightmare, with growing unemployment, poverty and misery? It's quite a puzzle for those who recognize capitalism's productive potential but who, for ideological reasons, are completely unable to recognize the inherent internal flaw within capitalism which prevents its full productive potential from ever materializing, and certainly not for the benefit of all the people.
"America is productive enough that it could probably shelter, feed, educate, and even provide health care for its entire population with just a fraction of us actually working." —A 2011 CNN TV report, quoted in Robert W. McChesney and John Nichols, People Get Ready: The Fight Against a Jobless Economy and a Citizenless Democracy (2016), p. 21.
[That is certainly true. On the other hand, if there were also more jobs instead of fewer, then the benefits for the entire working class and everyone could be all the greater! But all that is only truly possible if capitalism is first transformed by proletarian revolution into genuine socialism. McChesney & Nichols note that "This gap between potential and reality is a long-term tension in capitalism..." It should be added that this tension is now reaching its extreme limits where something simply has to give! —Ed.]
UNITED STATES IMPERIALISM — Foreign Military Bases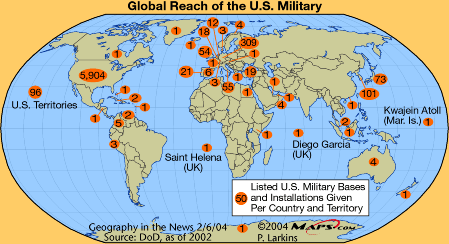 For many decades U.S. imperialism, as the world's dominant and most agressive military power, has had hundreds of military bases in other countries all around the world. The map at the right shows the official number of U.S. bases, both in the U.S. and abroad, as of 2002.
It is difficult to say exactly how many foreign U.S. bases there are for several reasons, and especially because the number is constantly changing and because many of them are "hidden" or "unofficial". A recent serious study of U.S. foreign bases by David Vine, for his book entitled Base Nation (2015), points out that there has been a "temporary" U.S. base in Honduras since 1982, "allowing oficials to claim there's no U.S. base in Honduras while circumventing the Honduran constitution's prohibition against a permanent foreign troop presence." [David Vine, "Where in the World Is the U.S. Military?", July/August 2015, online at: http://www.politico.com/magazine/story/2015/06/us-military-bases-around-the-world-119321] He points out similar deceptions for bases in Thailand, the Philippines and elsewhere. In addition there is the problem of what to count as a "base" in the first place, since they vary in size from small radar installations (often operated in cooperation with the host country) all the way up to moderately sized and virtually American cities located in other countries. Vine resolves that difficulty by referring to the smaller installations as "lily pads". (See map below.)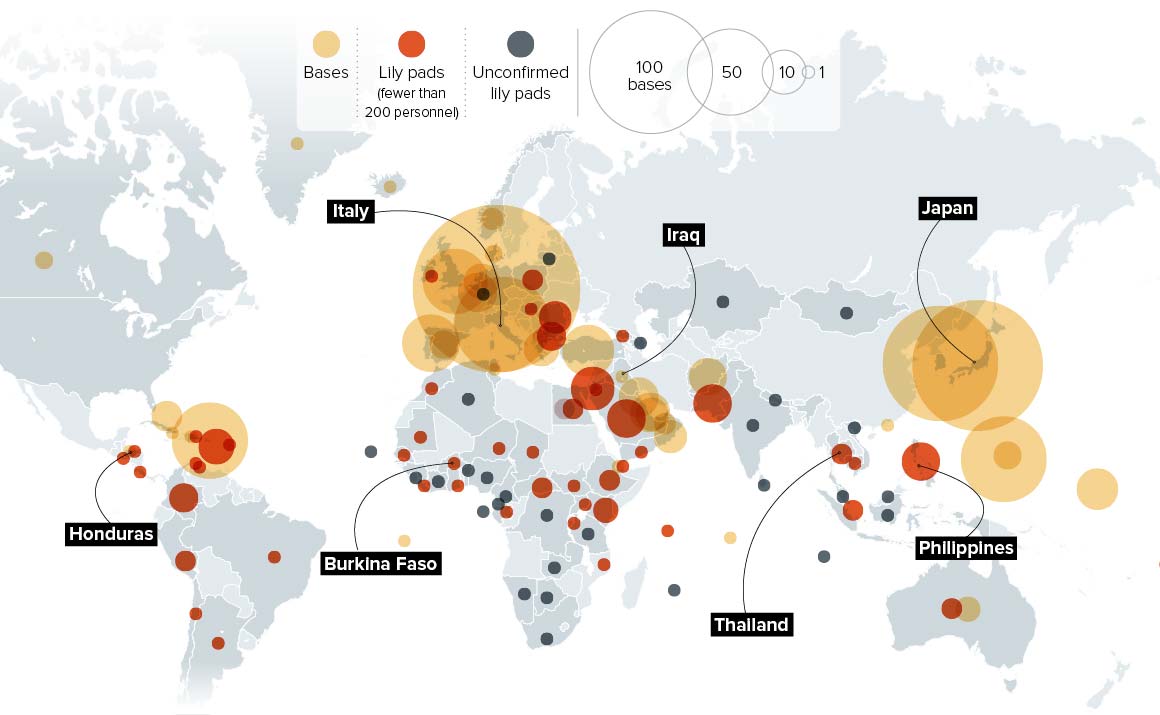 Because of the growing U.S. and world economic crisis, the U.S. has had to close down hundreds of foreign bases in recent years. In addition, it prematurely declared "victory" in its last war in Iraq and closed down most of its 505 bases (at its peak) in that one country alone. (An incredible number in just one single country!) Despite all these closures the U.S. still had almost 800 foreign bases in more than 70 countries and territories as of mid-2015. This compared to a total of only about 30 foreign bases for Britain, France and Russia added together. [David Vine, ibid.]
The cost of maintaining all these bases and troops overseas is enormous. Vine estimates that the cost for fiscal 2014 was roughly $85 to $100 billion, and that the total cost, including bases and troops in war zones, was between $160 and $200 billion. (And that still doesn't even begin to account for the full cost of these current wars.) The U.S. imperialists are more and more worried about this, and that is why they are demanding that other countries pay for more of this cost. This is what lies behind President Trump's current demands that the other NATO countries pay for maintaining U.S. bases in Europe.
Despite the concentration of U.S. bases in Europe and Asia, where they are clearly most centrally focused on the major imperialist opponents of the U.S., namely Russia and China, there is also a growing focus on Africa which doesn't show up on the map above. This is because the U.S. military activity in Africa is mostly managed from their AFRICOM facilities located in Sicily.
It is true that U.S. imperialism has been gradually weakening relative to other imperialist powers since the end of World War II, both economically and even militarily. The rapid rise of imperialist China in recent decades is especially changing the overall situation quite rapidly. Nevertheless, as this survey of the massive overseas military presence of the U.S. shows, American imperialism remains a very powerful and practically ubiquitous military force around the world today.
UNITED STATES IMPERIALISM — Rise Of
According to the Marxist-Leninist viewpoint, the United States became an imperialist power near the end of the 19th century, and the Spanish-American War—in which the U.S. stole the Philippines, Cuba, Puerto Rico and other colonies from Spain—was the formal inauguration of U.S. imperialism on the world stage.
However, as of 1900 the U.S. was not yet the most powerful imperialist country in the world; that was still Britain. But Britain and the other old-line imperialist powers were greatly weakened in World Wars I and II, while U.S. imperialism continued to rise. By the end of World War II the U.S. stood at the apex of its power in the world, though it was then also confronted by the rising socialist country, the Soviet Union.
The U.S. has (so far) remained the single most powerful imperialist country since World War II, though as head of a new imperialist world system in which other imperialist powers also participate. And the other imperialist countries soon regained a lot of economic strength—especially Germany and Japan. Moreover, two new imperialist countries eventually arose: First Soviet social-imperialism, when the socialist U.S.S.R. was captured from within by a newly arisen bourgeois state-capitalist class, and later China. After Mao's death China was captured by capitalist-roaders led by Deng Xiaoping who soon completely destroyed Chinese socialism. By the year 2000 China was already emerging as an important new imperialist power.
So while the United States is still the most powerful imperialist country, especially militarily, it is now clearly in a period of decline. At first the decline was slow, but it is now speeding up.
"By all these indicators—power, influence, scope of interest, and role—between 1914 and 1945 the United States became an empire.
"The seed time of the American Empire, to be sure, lay well before the two world wars, roughly in the 1880s and 1890s. In that era the United States went from being a second-rate power at best to a nation recognized by the statesmen of Europe as having joined the ranks of the great powers. The United States led the world in the production of wheat, coal, iron, and steel. J. Pierpont Morgan and John D. Rockefeller personified the stupdendous rise of American riches. The total capital in American banks exceded that of any other country, and the total value of American industrial output equaled that of any two competitors.
"With wealth came might. The same period saw the construction of big-gun steel warships. Although the American fleet by no means was a challenge to Great Britain's, congressional authorizations brought it abreast of Germany's and ahead of Austria-Hungary's and Italy's."
"The emergence of American naval power encouraged businessmen to push aggressively into foreign markets. Rockefeller reached out to challenge French, Russian, and Dutch oil firms in the Middle East and Asia, and Andrew Carnegie was beginning to sell steel in Europe itself. Occasional newspaper editors and politicians mused about resuming the old contest with Great Britain and even talked about the conquest of Canada. Nothing came of that, but the United States did acquire its first territory beyond the water's edge. [E.g., Hawaii, which became a de facto U.S. protectorate in 1893 and then was formally annexed in 1898.]
"... [D]uring the Spanish-American War... [the U.S.] acquired Puerto Rico, Cuba, Guam, and the Philippines. America now possessed a small seaborne empire. Soon afterward President Theodore Roosevelt bullied, blustered, and bragged his way into the seizure of the Panama Canal Zone, making the United States a power in the Caribbean and the Pacific alike."
—Robert Smith Thompson, The Eagle Triumphant: How America Took Over the British Empire (2004), pp. 322-323. [Though this is all true, Thompson is not a Marxist, so he speaks in terms of a U.S. colonial "empire" rather than about U.S. imperialism. Similarly, in other sections of his book in talking merely about how the U.S. took over the British empire, he seems to have failed to recognize that something more basic was also going on at the end of World War II. The U.S., even at its peak of individual power, did not merely supplant Britain as the top dog among imperialist powers; it also led in transforming world imperialism into a new world imperialist system by institutionalizing neocolonialism and setting up agencies such as the IMF, World Bank, and what eventually developed into the World Trade Organzation. —S.H.]
UNITY OF THE WORLD
The physical universe is a unified system, consisting of myriad separate material parts which nevertheless interact with each other to various degrees. This unity of the world arises from the fact that these parts can and do interact with each other. They do so through the forces which have been discovered, namely gravity, electro-magnetism, and the weak and strong nuclear forces, and perhaps also through some additional physical forces yet to be discovered.
It is possible to absurdly exaggerate the unity of the world, however, such as via the mystical notion that "all is one". According to the ancient Greek philosopher Parmenides, for example, reality is a unified, eternal, indivisible, unchanging and motionless single entity, and all the movement and interaction between people and things that we seem to see are mere illusions! Of course it is difficult for modern scientific people to understand how such a view could ever have been taken seriously.
Obviously a more dialectical perspective is called for here. There is both unity and difference in the world, both connection and distinction, both interaction and effective non-interaction. The unity of the world consists more in the possibility of occasional exceptional interactions between two different things than it does in actual universal, constant, equipollent, mutual interactions. It may well be that every single particle of matter is connected to every other one through gravitational and/or other forces, but in most cases such connections are inconsequential. The gravitational tug of the planet Neptune has no detectable effect on my fingers in the typing of these words, even though science does currently assume that some such ultra-minute tug actually exists.
Any coherent notion of cause and effect requires such a dialectical view of the unity of the world.
The world is a unity in another important way as well: there are not two separate, unconnected aspects to it, the physical and the mental (or "spiritual"); instead, mental phenomena such as ideas, thoughts or memories, are merely special ways of looking at aspects of certainly highly organized complexes of matter (e.g., brains) and their functions and processes. (See: MONISM)
"The real unity of the world consists in its materiality..." —Engels, Anti-Dühring (1878), MECW 25:41.
UNIVERSAL HEALTH CARE
A social system within a country that provides health care for everyone through one or another form of nonprofit national health insurance. Most advanced capitalist countries developed such systems under pressure from the masses. The U.S. however, being the most backward capitalist country socially, has never had such a system. Even the current so-called Affordable Care Act ("Obamacare"), being implemented in 2013-2014, is a pitifully inadequate substitute for a true universal health care system.
The lack of universal health care means the poor health of millions upon millions of people, and the outright deaths of tens of thousands every year in the U.S. This is one of the many forms of continuing capitalist murder of the American people.
"'[T]he uninsured have a higher risk of death when compared to the privately insured, even after taking into account socioeconomics, health behaviors and baseline health,' said lead author Dr. Andrew Wilper (of the recent study 'Health Insurance and Mortality in U.S. Adults,' American Journal of Public Health, December 2009).
"'Historically, every other developed nation has achieved universal healthcare through some form of nonprofit national health insurance,' said study co-author Dr. Steffie Woolhandler, a professor of medicine at Harvard and a primary care physician in Cambridge, Massachusetts. 'Our failure to do so means that all Americans pay higher health care costs, and 45,000 pay with their lives [each year].'...
"'Absent the $400 billion in savings you could get from single payer, universal coverage is unaffordable. Politicians in Washington are protecting insurance profits while sacrificing American lives.'
"'Now one American dies every 12 minutes,' said study co-author Dr. David Himmelstein.
"'California leads the nation with 5,302 deaths due to lack of health insurance per year. Texas follows closely behind with 4,675 deaths due to lack of health insurance per year. Texas also had the highest rate (in 2005) of uninsured citizens—29.7 percent.'" —From Ralph Nader, Getting Steamed to Overcome Corporatism (2011); original source: Corporate Crime Reporter, Sept. 21, 2009.
UNIVERSALS (vs. PARTICULARS or INDIVIDUALS) [Philosophy]
Universals are abstractions (abstract concepts), which are usually generalizations derived from particulars (such as individual material things) which have a physical existence in the world.
There is a long tradition in idealist philosophy, going back at least to Plato, in arguing that in addition to the specific material objects in the world there also actually exist (perhaps even in some "deeper" sense!) abstract entities which embody the "idea" or "form" of a given sort of object. For example, according to this idealist conception, in addition to all the actual chairs in the world there also exists the idea of "chair" (or "chairness") which is just as much a part of reality as are all the specific chairs. But while that idealist conception that ideas are on an existential (or ontological) par with material objects is total nonsense, it is a fact that we do have the abstract concept of a chair, and that abstract concept is different from (and not identical to) any specific chair. (If some particular chair that is extremely similar to our concept of a chair is destroyed, for example, our concept of a chair is still not in any way destroyed.)
Philosophers, therefore, have long discussed the relationship between universals and particulars (or individual things), and idealist and metaphysical philosophers have often been very confused and mystified by this relationship. The central difficulty here comes from an inadequate understanding and analysis of what abstraction is. However, to deeply understand the nature of abstraction itself, one must apply materialist dialectics. It appears to me that Lenin was making an attempt in this direction in the following, though it is not certain that everyone will find this helpful (since the discussion itself is quite abstract):
"To begin with what is the simplest, most ordinary, common, etc., with any proposition: the leaves of a tree are green; John is a man; Fido is a dog, etc. Here already we have dialectics (as Hegel's genius recognized): the individual is the universal...
[Lenin then quotes a passage in German and Greek about the views of Aristotle on this subject. The English translation of that passage is: "For, of course, one cannot hold the opinion that there can be a house (in general) apart from visible houses."]
"Consequently, the opposites (the individual is opposed to the universal) are identical: the individual exists only in the connection that leads to the universal. The universal exists only in the individual and through the individual. Every individual is (in one way or another) a universal. Every universal is (a fragment, or an aspect, or the essence of) an individual. Every universal only approximately embraces all the individual objects. Every individual enters incompletely into the universal, etc., etc. Every individual is connected by thousands of transitions with other kinds of individuals (things, phenomena, processes), etc. Here already we have the elements, the germs, the concepts of necessity, of objective connection in nature, etc. Here already we have the contingent and the necessary, the phenomenon and the essence..." —Lenin, "On the Question of Dialectics" (1915), LCW 38:361. [This is from a rough manuscript that Lenin did not have a chance to prepare for publication during his lifetime.]
UTOPIAN SOCIALISM
The belief that the social ownership of the means of production can be achieved by appealing to the rich and powerful who presently own it to voluntarily and peacefully relinquish that ownership and control.
"It is natural that utopian theories, which before the era of materialistic critical socialism contained the rudiments of the latter within itself, can now, coming belatedly, only be silly, stale, and basically reactionary." —Marx, Letter to Friedrich Adolph Sorge, Oct. 19, 1877, Marx-Engels: Selected Correspondence (Moscow: Progress, 1975), p. 291. [In a slightly different translation in MECW 45:284.]
"Utopian socialists are always trying to persuade the bourgeoisie to be charitable. This won't work, it is necessary to rely on the class struggle of the proletariat." —Mao, "Talk on Questions of Philosophy" (Aug. 18, 1964), SW 9:125.