RABOCHEYE DYELO [Workers' Cause]
"Rabocheye Dyelo (Workers' Cause) was an Economist journal, organ of the Union of Russian Social-Democrats Abroad, published at irregular intervals in Geneva from April 1899 to February 1902 under the editorship of B. N. Krichevsky, P. F. Teplov (Sibiryak), V. P. Ivanshin, and later A. S. Martynov. Nine issues (three of them double ones, thus making twelve) appeared in all. The editorial board of Rabocheye Dyelo was the Economists' center abroad. It supported Bernstein's slogan of 'freedom of criticism' of Marxism, took an opportunist stand on the tactical and organizational problems of the Russian Social-Democratic movement, and denied the revolutionary potentialities of the peasantry. The journal propagated the opportunist idea of the subordinating the workers' political struggle to the economic and glorified spontaneity in the working-class movement, denying the leading role of the Party. One of its editors, V. P. Ivanshin, also took part in editing Rabochaya Mysl, organ of the avowed Economists, which Rabocheye Dyelo supported. At the Second Congress of the R.S.D.L.P., the Rabocheye Dyelo-ists represented the extreme Right, opportunist wing of the Party." —Note 4, LCW 7.
RADICAL PHILOSOPHY [Magazine]
A journal of "radical" academic philosophy published in Britain since 1972. Although it claims to be a journal of "socialist and feminist philosophy" it has little connection with Marxism-Leninism-Maoism or with revolution. As this summary from its website demonstrates, it is mostly focused on pseudo-"Marxist" Continental Philosophy:
"The journal is run by an Editorial Collective and appears 6 times a year. It features major academic articles by some of the most famous writers in contemporary left-wing and feminist philosophical, political and cultural thought, including Alain Badiou, Étienne Balibar, Homi K. Bhabha, Pierre Bourdieu, Judith Butler, Michèle Le Dœuff, Paul Feyerabend, Michel Foucault, Axel Honneth, Philippe Lacoue-Labarthe, Jean Laplanche, Michael Löwy, Antonio Negri, Jacques Rancière, Richard Rorty, Peter Sloterdijk, Gayatri Spivak, Rick Turner, Paul Virilio and Slavoj Žižek. Each issue also has a large and diverse reviews section (reviewers have included Daniel Bensaïd, Terry Eagleton, Fredric Jameson and Christopher Norris) as well as commentaries, obituaries, interviews (including Cornelius Castoriadis, Drucilla Cornel, Jacques Derrida, Hans-Georg Gadamer, Stuart Hall, Rem Koolhaas, Edward Said, Jeff Wall and Cornell West), news and conference reports. Radical Philosophy also organises regular conferences."
Radical Philosophy's website, which contains all its content from back issues (though most of it in bourgeois fashion available only for sale or for subscribers), is at: http://www.radicalphilosophy.com
RAWLS, John (1921-2002)
A very influential American bourgeois philosopher in the last half of the 20th century who specialized in moral and political philosophy. He is basically a philosopher of bourgeois liberalism. He spent most of his teaching career at Harvard University, and is best known for what contemporary bourgeois philosophers consider to be his "magnum opus", A Theory of Justice (1971).
A Theory of Justice is, however, a confused and inconsistent work. Because there are many conflicting and fairly obscure threads in it, it is the sort of work that bourgeois philosophers love to discuss and "interpret". One would think that a major work on moral philosophy (ethics) and political philosophy would begin by clearly stating what the foundations of morality are. But Rawls does not do that; his obsession is with the higher level principles of moral and political philosophy which depend on the foundations of morality which he never coherently establishes. Thus it often goes unnoticed that Rawls is pretty much just a Kantian when it comes to the foundations of morality. This is brought out more clearly in another of his books, Lectures on the History of Moral Philosophy (2000).
"As in all his writings, he [Rawls] gives pride of place in these lectures to questions about moral reasoning. He is concerned above all with the logic of morality, its presuppositions, its principles, and the basic legal and political institutions that flow from it. Rawls finds inspiration chiefly in the daunting writings of the great 18th-century German philosopher Immanuel Kant. He does discuss other thinkers. David Hume, with whom he begins, raised the question that Kant attempted to resolve: How can there be universal moral standards untainted by our passions and interests? Part of Kant's answer is elaborated in the Critique of Pure Reason (1781): The very structure of reason, independent of our passions and interests, provides universal standards. Another part is found in ... his other works in which Kant develops the idea from a variety of angles that the universal moral standard takes the form of a law, the Categorical Imperative, which requires us to act according to a maxim that we could will to be a universal law. Rawls concludes with Hegel, who clarified, corrected, and supplemented Kant. But, as in Rawls's other writings, Kant is the looming philosophical presence.
"... [Rawls] turns to Kant in order to make sense of the moral life as it truly is. The implication is that the history of moral philosophy culminates in Kant and more or less comes to an end in the Kantian-inspired moral philosophy that Rawls's own work exemplifies. What Rawls introduces as a circumscribed scholarly effort to understand Kant is actually a bold defense of the Kantian idea that the very essence of morality consists in reasoning correctly on the basis of universal moral laws." —Peter Berkowitz, "John Rawls and the Liberal Faith", in the bourgeois journal, the Wilson Quarterly, Spring 2002, pp. 61-62.
From the point of view of revolutionary Marxism, this so-called "bold defense" of universal moral laws is instead just another tiredsome repetition of Kantian doctrine that has long been seen through on our part as the idealist nonsense that it is! Since all of Rawls's arguments in A Theory of Justice and his other writings are constructed on this Kantian basis, they are all essentially worthless from our point of view, and would still be so even if they weren't so confused and obscure. All his endless discussions of the nature of "justice as fairness", distributive justice (how goods should be fairly distributed in a society), and so forth are found to rest on idealist and bourgeois foundations. Rawls not only appeals to the quintessentially bourgeois "Social Contract" idea, but also affirms the "right" of individuals to own and control private property in the means of production as a basic principle of "liberty", which is supposedly justified on the basis of human "moral capacities" and "self-respect". Thus this supposed paragon of the defense of moral justice sees nothing at all wrong in the capitalist exploitation of the workers or the imperialist economic domination and exploitation of the world.
Rawls's conception of a "well-ordered society" is that of bourgeois liberalism (meaning "liberalism" in the contemporary social sense in the U.S., as opposed to conservatism and laissez-faire). Thus he favored the liberal's notion of supposed social justice, the regulation of capitalism and the mere mitigation of some of its worst "excesses". His whole career was devoted to giving a theoretical excuse for liberal capitalism.
RECESSIONS — Predicting
It is often noted that bourgeois economists are very bad at predicting recessions (and, indeed, in predicting the future course of the economy in general). Why is this? It is simply because they do not understand the basic laws of capitalism; they do not really know how capitalism works. So instead of making predictions based on a comprehension of the laws underlying the system, they are reduced to making predictions based on 1) their biased pro-capitalist belief that the system generally works well, and 2) the expectation that what has been happening recently will continue to happen, if not considerably improve. I.e., their "predictions" are at best only a restatement of what has already recently been happening, along with some "positive thinking" and cheerleading.
See also: ECONOMIC FORECASTING
"Perhaps the best sign of how difficult it is to know the economy's direction is that, as a group, the nation's professional forecasters have failed to predict all the recessions since the 1970s, according to data kept by the Philadelphia Fed. In the last 30 years, the average probability they put on the economy lapsing into recession has never risen above 50 percent—until the economy was already in a recession." —David Leonhardt, New York Times, Sept. 7, 2011.
RED BAITING
1. Attacking or persecuting people for being communists, whether or not they are communists.
2. Accusing liberals and other people who are quite clearly not communists of being communists, in order to discredit them within bourgeois politics.
In very reactionary countries, such as the U.S., red baiting typically has this second sense, because—for one thing—there are not very many actual communists around, and they play little or no role within the dominant media intra-bourgeois political struggles.
It might be thought that red baiting plays a positive role in some respects, since in bourgeois politics anything remotely progressive is soon labeled as "communistic" by some reactionary or other—thus tending to associate anything at all progressive or in the interests of the people with communism. However, there is little doubt that on balance red baiting is a very negative phenomenon that primarily serves the interests of the capitalist ruling class and their indoctrination of the people. In bourgeois society most people need to learn what their actual interests are, and the overall nature of social reality, in a step-by-step fashion which usually only fairly gradually leads them from liberal reformist views to revolutionary and communist views. Red baiting creates tremendous fears among many liberals about "going too far" or "taking any further steps" in their ideas or actions against the ruling capitalists. Intellectuals, especially, can thus become quite emotionally fearful of advancing their own ideas in any radical direction.
See also: ANTI-COMMUNISM, McCARTHYISM, TO BE ATTACKED BY THE ENEMY IS A GOOD THING
"Virtue, it turns out, is the exclusive property of the right. This was brought to my attention just a few months after I began writing 'The Ethicist,' a weekly column in The New York Times Magazine, when it was denounced by four periodicals, each more right-wing than the last... [The online National Review said:] '"The Ethicist" Better Termed "The Marxist."' I may have earned this encomium by suggesting that public education was worthwhile, or perhaps by favoring breathable air. Or air. (Admissions requirements for Marxism have apparently been lowered precipitately, like some kind of ideological grade inflation.)" —Randy Cohen, "The Politics of Ethics", The Nation, April 8, 2002, p. 21.
REFLECTION THEORY [Philosophy]
An important part of the Marxist understanding of the relationship of ideas and the mind to physical reality; the view that mental conceptions reflect or correspond in one way or another to aspects of that reality. "At the roots of the theory of knowledge of dialectical materialism lies the recognition of the objective world and its reflection by the human mind." (Lenin)
The term reflection itself, however, can be somewhat misleading. Marxists are not claiming that this reflection in the mind or brain of external reality is like a mirror or a camera, which reflects an exact pictorial image of something. Rather the concept of reflection is much more abstract than that. Our mental idea of 'dog' is not an actual picture of a dog which is somehow formed in the brain.
"In that section of their outline, they [Christof Koch and Francis Crick] argue that there must be 'explicit representations' in our brains of things we perceive. By this they mean that if we can see a dog, whatever is happening in our brains while we're looking at the dog must be measurable and directly translatable, if we only knew what to measure and how to translate it. Thus it would be theoretically possible, by measuring the activity of neurons, to read the mind of someone looking at Fido and—simply by looking at the pattern of neuronal activity—know they were seeing a dog." —Shannon Moffett, The Three-Pound Enigma: The Human Brain and the Quest to Unlock its Mysteries (2006), p. 82.
[In the same way, the Marxist Theory of Reflection is not saying that our idea of 'dog' (whether we are looking at one at the moment or not) is some actual pictorial representation of a dog in our brain, but rather a more abstract correspondence between some complex of neural connections/activity and actual dogs. By the way, the hypothesized ability of scientists to read minds in the postulated way has now been demonstrated in the laboratory. In one experiment a subject was asked to think about a series of things one at a time, including a hammer. Functional MRI images were made of the brain while they did this. Later the subject was asked to think about just one of these items. The person thought about a hammer, and by viewing the fMRI image at that moment the scientists were able to determine that this was in fact what they were thinking about. This sort of thing is very crude at present (fortunately, given that this is bourgeois society!), but it does show that there is some definite correspondence, or "reflection", in the mind/brain between our ideas and reality. —S.H.]
When a baby or very young child sees a dog or other thing they may at first not yet be able to form the idea or concept of 'dog'. The formation of ideas which reflect reality is a process that must occur in the mind/brain. Moreover these ideas or concepts must be refined over time to more adequately reflect reality. (For example, the original concept of 'dog' in the child's mind may be that of some one particular dog, rather than of dogs in general.) Similarly, even much older children and adults will invariably have some ideas which are in need of much further refinement or even major modification in order to more truly reflect reality. This is especially apt to be the case with regard to social ideas and concepts which are systematically distorted by the bourgeoisie in capitalist society.
See also: SENSATIONS
"[Dialectical] Logic is the science of cognition. It is the theory of knowledge. Knowledge is the reflection of nature by man. But this is not a simple, not an immediate, not a complete reflection, but the process of a series of abstractions, the formation and development of concepts, laws, etc., and these concepts, laws, etc. (thought, science = 'the logical Idea') embrace conditionally, approximately, the universal law-governed character of eternally moving and developing nature. Here there are actually, objectively, three members: 1) nature; 2) human cognition = the human brain (as the highest product of this same nature), and 3) the form of reflection of nature in human cognition, and this form consists precisely of concepts, laws, categories, etc. Man cannot comprehend = reflect = mirror nature as a whole, in its completeness, its 'immediate totality,' he can only externally come closer to this, creating abstractions, concepts, laws, a scientific picture of the world, etc., etc." —Lenin, "Conspectus of Hegel's Book The Science of Logic" (1914), LCW 38:182.
"Cognition is the eternal, endless approximation of thought to the object. The reflection of nature in man's thought must be understood not 'lifelessly,' not 'abstractly,' not devoid of movement, not without contradictions, but in the eternal process of movement, the arising of contradictions and their solution." —Lenin, ibid., LCW 38:195.
REFORMS — Struggles For
[Intro to be added... ]
"Revolutionary Social-Democracy [revolutionary Communism] has always included the struggle for reforms as part of its activities. But it utilizes 'economic' agitation for the purpose of presenting to the government, not only demands for all sorts of measures, but also (and primarily) the demand that it cease to be an autocratic government. Moreover, it considers it its duty to present this demand to the government on the basis, not of the economic struggle alone, but of all manifestations in general of public and political life. In a word, it subordinates the struggle for reforms, as the part to the whole, to the revolutionary struggle for freedom and for socialism." —Lenin, "What Is To Be Done?" (1902), LCW 5:405-406.
RELATIONS OF PRODUCTION
The role or position of individuals and groups of people with regard to the ownership and/or control of the means of production and therefore with regard to the ownership or control of the economic surplus produced in economic production. The relations of production are thus the primary determinant of the class structure of any class society: which classes exist, and the nature of the political-economic relationships between the different social classes. Specifically, in every class society there is the central relationship of exploitation: one class exploits another, and thus lives off the labor of another.
In capitalist society the relations of production are as follows:
1) The bourgeoisie (or capitalist class) owns and controls the means of production, either as individuals, or in the form of corporations, or sometimes collectively at the state level (as with the U.S. Postal Service, or with all of industry as in the revisionist Soviet Union).
2) The proletariat (or working class) has no ownership share or control over the means of production, and therefore to survive each proletarian must sell his or her ability to work to one or another capitalist or capitalist corporation or entity. There is thus an exploitative relationship between the the bourgeoisie and the proletariat: The capitalists exploit the workers, since the source of surplus value and capitalist profits is the labor of workers.
3) The petty bourgeoisie (independent professionals and operators of very small businesses such as family-run restaurants) are more or less independent of both the bourgeoisie and the proletariat. They are neither directly exploited by the capitalists, nor do they (for the most part) exploit the working class.
"The defining anecdote in this final chapter is the tragicomic tale of a Mr Peel, who took with him from England to the Swan River district of western Australia £50,000 in cash and 3,000 working-class men, women and children. He overlooked only one thing: the need to keep his workers separated from the means of production. Finding land freely available in this empty region they abandoned their employer, leaving him without even a servant to make his bed or fetch him water from the river. 'Unhappy Mr Peel,' Marx writes, 'who provided for everything except the export of English relations of production to the Swan River!'" —Francis Wheen, Marx's Das Kapital (2006), p. 69, summarizing an historical incident described by Marx in Capital, vol. I, ch. 33.
RELATIVISM (In Epistemology)
The absurdly excessive skeptical view that there is no objective truth, nor any definite truths about the world. Usually this takes the form of claiming that human beings are incapable of determining or arriving at any definite truths about the world (including both the physical world and human society). According to this notion, everything is just a matter of unsubstantiated opinion. However, in reality, this is usually more of an indication that the holders of such views are themselves unable to figure out any important facts and truths about the world. They then foolishly ascribe their own inability and ignorance to everyone else!
Of course there is some degree of relativity to human knowledge. Humanity certainly does not know everything about the world, and never will. The extent of our knowledge is increasing over time, and we know things now we did not know in centuries past. But human knowledge as a whole must still be considered "relative" in this sense. Furthermore, the world, and things in it, are continually changing, so in this sense too things are somewhat relative and our knowledge of them is not "absolute" (complete, permanent or unchanging). Nevertheless, we do know many definite things about both the physical world and human society, and our knowledge is steadily increasing in both areas. Relativism, as a philosophical theory, is a wild and totally unjustified exaggeration of the actual limitations of human knowledge.
Relativism is one of the characteristic views of those who subscribe to pragmatism, and is also a central aspect of postmodernism in academia.
See also: AGNOSTICISM—Epistemological and Philosophical doggerel about relativism.
"Old people tend more to relativism; young people tend more to absolutism." —Mao, 1937, marginal note in his copy of the Marxist philosopher Ai Siqi's book Philosophy and Life; in Nick Knight, ed., Mao Zedong on Dialectical Materialism (1990), p. 237.
REMOLDING ONE'S WORLDVIEW (or WORLD OUTLOOK)
Changing one's viewpoint (worldview) from that of one class to that of another, generally assumed by Marxists to mean in the direction of a proletarian revolutionary outlook.
"How should a cadre look at himself? He should look at himself from the 'one divides into two' point of view. He may have his strong points, but he is sure to have shortcomings. He must not think he is always right. He must understand that remolding one's world outlook is not something that can be completed once and for all. As long as classes and class struggle exist in society, the struggle of the two world outlooks will go on in people's minds. Therefore, each of us faces the problem of eradicating the bourgeois world outlook and establishing a proletarian one in his mind. This matter of remolding one's ideology is important both for new or old comrades, both for those in low or high positions. Furthermore, the heavier is one's responsibility, the more important is such remolding, and the greater the need to remold consciously and be strict with oneself. Anyone who thinks he has no contradictions in his mind and needs no remolding is harboring a metaphysical viewpoint that is extremely harmful." —"Maxims for Revolutionaries—The 'Three Constantly Read Articles'", an editorial in Jiefangjun Bao [Liberation Army Daily], translated in Peking Review, vol. 10, #2, Jan. 6, 1967, p. 8.
RENDITION

In law rendition just means the transfer of a detained person from one jurisdiction to another. However, in recent years the term has come to be almost synonymous with extraordinary rendition or irregular rendition, which are euphemisms for the transfer of prisoners to other places so they can be more brutally interrogated and outright tortured. Numerous articles in bourgeois newspapers themselves have described how both the U.S. and Britain, in connivance with at least a dozen other countries, have been doing this in thousands of cases since their so-called "war on terror" began in 2001. It is yet another demonstration that this "war on terror" is actually itself a war of terror.
The CIA is the most notorious practitioner of extraordinary rendition. With the knowledge of and authorization by top government officials (including the President), it has set up a whole series of secret detention centers around the world (which are referred to as "black sites" in their own documents). One such "black site" is in Egypt, where security forces are notorious for their use of torture.
A report by the European Parliament in February 2007 stated that the CIA had conducted 1,245 rendition flights, many to destinations where prisoners could face torture, in violation of article 3 of the United Nations Convention Against Torture. This report, and its conclusion that many European countries had participated in these illegal and immoral actions by the CIA, was endorsed by a large majority of the European Parliament. This, however, has not kept the CIA and U.S. government from continuing these outrages.
RENT COLLECTION COURTYARD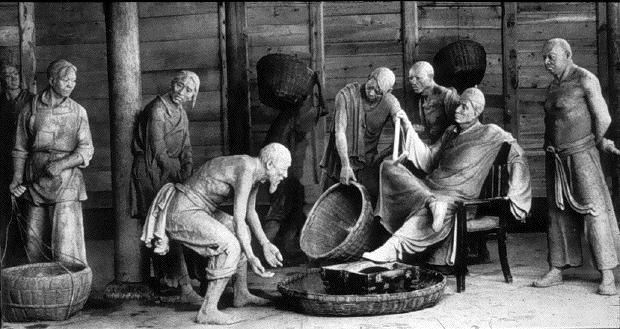 A world-famous set of over 100 life-sized clay sculptures of oppressed peasants and fierce class struggle in pre-Liberation China, situated in a feudal landlord's special courtyard for the payment of rent. This sculpture set was the work of a team of revolutionary artists led by Ye Yushan of the Sichuan Academy of Fine Arts, and was created in the early Great Proletarian Cultural Revolution period (1965-66). It was displayed in the actual "rent collection courtyard" of the despotic landlord Liu Wen-tsai of Dayi County, Sichuan Province in southwestern China, whose enormous home was turned into a museum after the revolution.
"Chairman Mao reformed the culture of China to coincide with the new Chinese Communist Party in many ways. This included changing the context of art expression, in particular, the creation of the Rent Collection Courtyard. Mao recruited a group of eighteen professional and amateur revolutionary Chinese sculptors and instructed them to intermingle themselves with the laboring class to learn from their experiences and stories of pre-revolution times. The artists lived among the workers and came to empathize with them, developing passionate feelings themselves against systems of exploitation that are clearly evident in the features and flow of the scenes.
"The work was a milestone for peasant representation throughout China, giving the people a voice in a manner that would be caught in time and never forgotten. In conforming to the peasant class, the materials of which the sculptures were formed also appealed to them. The clay and straw mixture was cheaper and easier to use than traditional plaster or bronze, and it is a material available anywhere in the countryside of which the laborers live. Wooden frames anchor the clay figures and the outer surface is an amalgam of clay, sand, and cotton. Black glass was used for the eyes and new carving techniques gave the features an especially dynamic appearance, an approach incomparable [with] previous clay sculpture.
"The Rent Collection Courtyard was completed in four and a half months and put on exhibition on October 1, 1965. Peasants immediately traveled hundreds of kilometers to see the work that truly gave them a voice. The following year the people demanded another set be added to the work, increasing the number of figures from 114 to 119....
"The political, moral and artistic significance of the Rent Collection Courtyard makes it one of the most monumental works in Chinese history. Its form and attention to detail evokes philosophical and nationalist agendas from across the ideological spectrum. Drawing from a mass of millions of demoralized people with a renewed outlook on life, this exhibition brought artistic expression to new and profound heights." —Britt Paulson, St. Olaf College, 2004.
The Rent Collection Courtyard was such a powerful work of art that it was widely publicized and underwent various revisions, incorporating the criticisms and new ideas of workers, peasants, soldiers and Red Guards. These revisions gave a bolder expression to some of the faces of the people, and most importantly, the sixth section of the display, entitled "Revolt" was improved and made more powerful.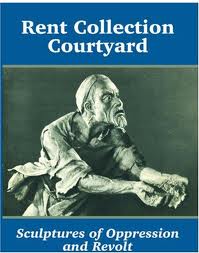 Replicas of these sculptures were created and displayed elsewhere in China, and as recently as 2010 one set was once again displayed briefly in Beijing, despite the neglect and destruction of most Maoist revolutionary art in contemporary capitalist China. A wonderful book showing this great work of sculpture was published in the Maoist period, and may still be available in used book stores: Rent Collection Courtyard: Sculptures of Oppression and Revolt, 2nd ed. (Peking: 1970). Many photos of both the original and replica sculptures are also available online, many of which can be found by searching for "rent collection courtyard" at Google images.
REPEATED STUDY OF THE SAME POLITICAL WORKS
Many works of revolutionary Marxism, such as the major writings by Marx, Engels, Lenin and Mao, are worthy of not only careful study, but of repeated study. The first time reading a book like Marx's Capital, for example, even a serious and dedicated reader cannot be expected to grasp and remember all the wealth of knowledge, make all the diverse connections between the multitude of ideas, and fully appreciate all the profundity that is included there. As Engels remarked, since socialism became a science it must be pursued as a science—that is, it must be studied. Science requires the extensive thought that comes from the repeated study of key works.
On the other hand, our political study must not be limited to just a small number of works, no matter how important they might be, nor should it be limited to just the classics of Marxism-Leninism-Maoism. During the late 1960s in China Lin Biao and his close followers argued that it was not necessary to read widely, but rather it was enough to constantly re-read Mao's Red Book of quotations and a very few of his articles (such as the "three constantly-read articles"). In both their own study and in their political education of others, people were advised: "Don't be afraid of repetition. Link up with reality, link up with ideology and link up with work, and we will no longer be repetitive." [Peking Review, "Carry the Mass Movement for Creative Study and Application of Chairman Mao's Works to a New Stage", Oct. 14, 1966, p. 7.] It is true, of course, that study should be linked up with practice. But it is not true that only a limited range of highly repetitive political study is necessary. Moreover to argue that this is sufficient is in fact a way of opposing the broadening and deeping of everyone's political education.
We must both engage in repeated study of the most important revolutionary political, philosophical and economic works, and at the same time read and study much more broadly than that, so that we can not only truly grasp our existing science of revolutionary Marxism, but also help extend it and apply it to quite new situations.
RESCISSION
[Bourgeois business term:] The cancellation of an agreement and reversion to an earlier or different arrangement. Many business contracts allow the dominant party to get out of its commitments this way, and rescissions are especially common in the insurance industry. In other words, rescission is often a legal excuse for what amounts to fraud.
"Rescission is the insurance company practice of canceling someone's coverage after the person comes down with a condition that is expensive to treat, such as HIV/AIDS or cancer. Insurers comb through patients' medical records to see whether they left anything off their applications, no matter how minor or unrelated to the medical problem. Patients have lost coverage for failing to disclose pre-existing conditions they didn't even know they had or for clerical errors in their records." —"Health reform: Your next steps", Consumer Reports, June 2010, p. 13. [The article goes on to note that when the new U.S. health care bill passed in 2010 takes full effect the insurance companies will still be able to rescind policies, but there will be some new restrictions on them that may prevent some of the most outrageous cases.]
REVERSE MORTGAGE
A special type of mortgage in which a homeowner's equity is diminished by either a lump sum or by periodic payments (an annuity), which the mortgage holder pays to the homeowner. It is a way of selling your home to a bank or mortgage company which usually allows you to remain living in the home until you die. After your death the bank owns your home, or at least a large part of what it is worth.
An ordinary mortgage is a loan which people take out in order to buy a house. They then typically spend decades paying off that loan, and if they finally do pay it off they end up actually owning the house for real. But many people, as they reach old age and are no longer able to work, do not have enough income to survive—even if they do actually own their home with the mortgage paid off. (People's savings are most often inadequate, and Social Security payments are definitely paltry.) In this situation people may have no choice but to sell their home, either directly and immediately, or else via the mechanism of a reverse mortgage.
While the idea of a reverse mortgage sounds good to many people, the banks or mortgage companies that issue them typically charge quite high fees and interest rates on their payments, thus victimizing people who are simply trying to remain in their own homes in their old age. Reverse mortgages are highly profitable loans for the banks.
"As all statistics show, the only significant asset that Americans accumulate during their working years is their home. The economic realities of our times now require that people draw down that asset via reverse mortgages to fund their post-retirement years. They will thus not leave their homes to their children. Meanwhile the mass refinancing of home mortgages by Americans during their working years is also reducing their home equity as they approach retirement.
"The combination of refinancing and reverse mortgages is quickly eroding the historically short-lived period of mass home ownership in the U.S." —Richard D. Wolff, Capitalism Hits the Fan (2010), pp. 29-30.
REVOLUTION, SOCIAL
The replacement of one socioeconomic formation with another, higher one. This implies the replacement of one class as the ruler of society by another (except in the change from primitive communal society to slave society, where there was originally no ruling class; and in the change from socialism to communism, where the proletariat gradually ceases to exist as a class.)
Whereas bourgeois commentators often use the term "revolution" very loosely to mean any change of government except through established electoral procedures (and sometimes even including that!), Marxists reserve the term for genuine changes in the form of society, and moreover changes which are progressive and in the interests of the people (as opposed to counter-revolution).
"Marxism-Leninism consistently holds that the fundamental question in all revolutions is that of state power." —A Proposal Concerning the General Line of the International Communist Movement: The letter of the Central Committee of the Communist Party of China in reply to the letter of the Central Committee of the Communist Party of the Soviet Union of March 30, 1963 (Peking: Foreign Languages Press, 1963), p. 21.
REVOLUTION — Targets Of
The primary target of the proletarian revolution is of course the bourgeoisie, or capitalist class, and all their institutions, social arrangements, ways of thinking, and so forth. [More to be added... ]
However, since even the working class and Marxist revolutionaries exist in bourgeois society, they are also inevitably infected, to varying degrees, with bourgeois ideology. Moreover, as new issues and questions come up in the transformation of bourgeois society into socialism and then communism, some workers and some revolutionaries will inevitably (if only initially) choose the bourgeois side, or the "capitalist road". Thus, even the workers, and even the members of the revolutionary party itself (including its leaders), are to some degree also the targets of the revolution!
"Whatever his position, however long his experience in the revolution, or his age, every one of our cadres must see himself both as a motive force in the revolution and, at the same time, as a target of the revolution, and therefore must consciously wage revolution against himself. He must make the best of his strong points so as to be able to give his all to the revolution. He must also wage a constant struggle against his short-comings so as to adjust himself to the demands of the revolution. In the battle to remold himself to the depth of his soul, he should be a fighting commander who leads his men in the assault on the enemy citadel, not a coward filled with misgivings and fears. He must be a fearless and thoroughgoing materialist who is not afraid of being hurt, of losing face, of revealing his thoughts, of probing his soul, of affronts to his 'dignity' or of changing the old existing order; only so can he be completely emancipated from egoism.
"Cadres at all levels should not only make revolution against themselves, but should also welcome the help of others in doing it." —"Maxims for Revolutionaries—The 'Three Constantly Read Articles'", editorial in Jiefangjun Bao [Liberation Army Daily], in Peking Review, vol. 10, #2, Jan. 6, 1967, p. 8.
REVOLUTIONARY UNION — 1970 Split
In late 1970 an ultra-"left" faction of the Revolutionary Union split off and then merged with a small Chicano revolutionary organization, Venceremos. This faction consisted of about one-third of the RU in the San Francisco Bay Area, and was led by the radical Stanford professor, H. Bruce Franklin. The Franklin group favored a revolutionary strategy that was inspired by Che Guevara's foco approach, but adapted to an urban setting, and therefore developing into urban guerrilla warfare. They viewed the basis for such a guerrilla movement to be the oppressed nationalities, and especially the lumpenproletariat among them, along with radicalized white students and ex-students.
The larger part of the RU, led by Bob Avakian and Steve Hamilton, rejected that approach as infantile anarchist ultra-"leftism", and favored sticking to the basic strategy upon which the RU was founded: a long period of merging of revolutionaries with the working class and raising their revolutionary consciousness, followed—at the appropriate time, and when conditions were ripe—by a co-ordinated national mass insurrection. Of course that approach is not only the traditional Marxist-Leninist one for advanced capitalist countries, it is also certainly the correct approach.
"By early 1970, there occurred an increasing polarization between the more clearly adventurist perspective represented by the Franklins and others in the RU leadership, and the more 'economist' perspective (as characterized by the opposition) of Avakian, myself, and the majority of the leadership. The issues crystallized when the former group submitted a position paper on armed struggle that described a scenario of 'urban guerrilla warfare' or a protracted 'armed propaganda' struggle and the clandestine formation of a 'people's army.' Avakian countered in a paper that argued that such a perspective is impossible in an advanced capitalist country, that there must be a long period of essentially peaceful political struggle culminating in a rather sudden mass insurrection when a significant mass base exists that is supportive of revolution. (The principal documents in this struggle were reprinted in Red Papers 4.)
"The adventurist line, which was possibly the dominant tendency in this period nationally [i.e., in the U.S. student-based revolutionary movement as a whole], was an inconsistent hodge-podge of Marxism and anarchism. It could be better understood as a mood, a mood of petty bourgeois impatience and romanticism that found its expression ideologically in a tendency to grossly exaggerate the readiness of objective conditions for revolution and consequently a tendency to project a totally unrealistic form and level of political struggle.
"Absurd as this position may sound, it was not easy at the time to counter because the alternative view had to be posed in explaining why more slow patient struggle was necessary and at a much less 'revolutionary' level, which did not sound very exciting by comparison. The reason for this can be found in the lack of understanding of Marxist theory, and the class background and limited (limited to outside the working class, largely) political experience of those who were impressed by this sort of ultra-leftism." —Steve Hamilton, "On the History of the Revolutionary Union (Part II)", Theoretical Review: A journal of Marxist-Leninist Theory and Discussion, #14, Jan.-Feb. 1980, p. 9.
REVOLUTIONARY WORK IN OUR TIMES (RWIOT)
An irregular series of conferences and a continuing extremely loose federation of various small revolutionary-minded groups and individuals in the United States at the present time. RWIOT seems to be promoting the idea of "Left Refoundation", or the reconstruction of a larger "Left" organization and movement in the U.S. based on some sort of vague "Left" consensus rather than MLM (revolutionary Marxist) principles. These folks are strongly opposed to "vanguardism", sectarianism and dogmatism, which is all well and good—depending on precisely what they mean by these terms! At least some of the people involved would seem to wrongly extend these terms to cover many well-established and definitely correct Marxist-Leninist-Maoist principles, practices and organizational forms. All sins have opposite sins; and there are also opposite errors to "vanguardism", sectarianism and dogmatism—even if the present-day language seems to have not yet created all the labels for them! For example, opposing MLM principles which have been proven to be correct over long periods of revolutionary history is wrong even if it is done under the rubric of "anti-dogmatism". There is also a fairly widespread feeling outside of the organizations involved in RWIOT that this general trend strongly leans towards rightism or economism. On the other hand, it seems to have attracted a number of young people with limited political experience and education and whose basic political views are not yet settled.
Among the organizations participating in RWIOT are: FRSO/OSCL, Solidarity, the Malcolm X Grassroots Movement (MXGM), Left Turn, the League of Revolutionaries for a New America (LRNA), and the New York Study Group.
The RWIOT web site is at: http://www.revolutionarywork.org/ and a discussion of the summer 2009 RWIOT conference (with about 200 attendees), written by one of the FRSO/OSCL folks, is at: http://freedomroad.org/content/view/665/228/lang,en/
REVOLUTIONARY WORKERS' HEADQUARTERS
A short-lived group which split off from the Revolutionary Communist Party USA, in early 1978, and later merged with other groups to form the Freedom Road Socialist Organization.
The RWH faction was mostly wrong on the major issues in that split from the RCP. They failed to recognize that after Mao's death there had been a revisionist coup in China. It is true that there was an element of error on the part of the Avakian-led RCP too, namely absolute support for the "Gang of Four" in China, who themselves made some very serious errors (such as left sectarianism and failing to use the mass line). Still, the RCP was correct in its general appraisal of what had happened in China, and the RWH forces who split off were essentially wrong. Neither the RWH nor its successor organizations (FRSO itself split in two in 1999) ever fully faced up to this old but continuing error. When the topic comes up they still tend to focus on what is clearly a secondary issue, on how to evaluate "the Gang of Four", and they don't do a fair and balanced summation even there.
The other major issues in the 1978 split were about how to build the revolutionary movement in the U.S. Here too, there was some error on both sides, though the RCP has maintained a much firmer stance in promoting revolution. On the other hand, the RWH forces, after merging with other organizations to form the FRSO groups, have done a better job in joining up with mass struggles. Basically it seems that the pre-1978 RCP was internally conflicted, and unable to resolve its internal conflict in a way which would maintain all its major strengths and discard its major weaknesses. So the post-split RCP kept to its revolutionary staunchness and general steadiness in revolutionary orientation, but also became more dogmatic, sectarian and promotive of a cult of personality around Bob Avakian. Worst of all, it renounced the necessity of joining up with the masses in their struggles as a means of bringing the light of revolution to them. The RWH and the FRSO groups, on the other hand, have gone in the diametrically opposite direction. They have been very weak in their public defense of revolution and revolutionary theory and in the promotion of revolutionary ideas among the masses. They are now widely viewed as merely reformist organizations in actual practice.
RIGHT AND WRONG
"IX. The relationship between right and wrong
"A clear distinction must be made between right and wrong, whether inside or outside the Party. How to deal with people who have made mistakes is an important question. The correct attitude towards them should be to adopt a policy of 'learning from past mistakes to avoid future ones and curing the sickness to save the patient', help them correct their mistakes and allow them to go on taking part in the revolution....
"A clear distinction must be drawn between right and wrong, for inner-Party controversies over principle are a reflection inside the Party of the class struggle in society, and no equivocation is to be tolerated. It is normal, in accordance with the merits of the case, to mete out appropriate and well grounded criticism to comrades who have erred, and even to conduct necessary struggle against them; this is to help them correct mistakes. To deny them help and, what is worse, to gloat over their mistakes, is sectarianism." —Mao, "On the Ten Major Relationships", April 25, 1956, SW5:301-302.
"RIGHTS"
[To be added...]
See also: BOURGEOIS RIGHT>, "NATURAL RIGHTS"
ROMANTICISM
A term which means related things in different spheres: in the arts generally; in music; in architecture; and in philosophy. Overall, Romanticism was a cultural movement which swept across western Europe (and to some degree the early United States) during the period of roughly 1775 to 1840 or so. It was in part a nostalgic and semi-religious reaction against the Enlightenment. In place of the ideas of reason, rationality and a scientific approach to the world that the Enlightenment championed, Romanticism favored the imaginative, the emotional, the inspired, the heroic, the nihilistic, the subjective, the self-centered focus on the "pleasure principle", the psychological, and often the religious in various idealistic forms. While there are some positive aspects to this whole temperament, there are obviously also many negative aspects to it as well.
Romantic art and literature emphasizes sweeping movement, allegory, imagination, fantasy, romance, mythic tales, and pilgrimages returning to a lost home or Eden. Romanticism in modern architecture means a flowing, open style, often based on natural materials and blending into the environment. (As with Louis Sullivan and Frank Lloyd Wright in American architecture, for example.)
Romanticism in music refers primarily to European classical music of the first half of the 19th century, and particularly the compositions of Beethoven, Schubert, Schumann, Chopin, Berlioz, Liszt, Verdi and Wagner. It has its inspiration both in literary Romanticism and also (somewhat in conflict with that) with the new ways of thinking opened up by the great French Revolution. It is characterized by the expression of the emotions and outlook of the composers together with the somewhat opposed notion that music can and must express the spirit of the age.
There are many admirable examples of Romanticism in art, architecture and music; however, in philosophy the situation is quite different. In this sphere Romanticism is virtually always intellectualized religion (philosophical idealism) and reactionary in its essence. Not too surprisingly, Kant is a major figure or influence here, such as with his idealistic distortion of the concept of free will, but more centrally with his conception of reality as fundamentally "unknowable" and ultimately spiritual. Other philosophers or thinkers more commonly referred to as Romantics, such as Schelling, are even more blatant: With him nature is a creative spirit aspiring to an ever more complete self-realization. Supposedly human knowledge of this "spirit" (or "the Absolute"!) cannot be acquired by rational or scientific means, but only through "intuition" (and even then only by a select few). This is the sort of incoherent nonsense that characterizes Romanticism in philosophy.
Politically, the Romantic movement was a rather mixed bag. One current within it was reactionary; it viewed the triumph of capitalism with disdain, but constructed an imaginary historic ideal of what Medieval (feudal) society was like, and longed for a return to it. But another, probably larger current within Romanticism, also reacting negatively to the new capitalist world, longed to transform it into something better. Among the more progressive Romantics were Byron, Victor Hugo, Chopin, Berlioz and Liszt. While their political activities were generally limited and often merely vaguely radical or utopian, they did strongly sympathize with the masses and their miseries in capitalist society.
RUSSELL, Bertrand (1872-1970)
One of the best known bourgeois philosophers of the 20th century, and one of the most overrated. He was constantly changing his mind about almost every topic, philosophical and political, so it is hard to summarize his "ideas". For example, at one time during the 1940s he advocated an unprovoked nuclear attack on the Soviet Union, and a few years later championed the "better red than dead" anti-nuclear movement. For more about his philosophical flightiness, see the philosophical doggerel page on him.
However, in his very old age, during the Vietnam War period, Russell did play a very positive political role, as this letter from him to Chou En-lai [Zhou Enlai], from Nov. 30, 1965 shows:
Dear Premier Chou,
I am grateful to you for your letter of October 22. As you know, I am very deeply concerned to make known the nature of the war at present being waged by the United States against the people of Viet Nam. American policy is progressing more and more towards economic and political control, usually obtained by the most atrocious means, of countries which she considers necessary for her own economic well-being.
We have sought, by all the means at our disposal, to publicize the many atrocities practised by the United States in the name of "liberation." I am heartened by the support which the people of China are giving to the Vietnamese in their hard-fought struggle for liberation and independence. It is also clear that the peoples of Latin America, Asia and Africa must similarly resist the imposition of such cruelty.
For my part I wholeheartedly support their sturggle and share your view that resistance to the efforts of the United States to obtain world domination is central to the creation of a lasting world peace.
This struggle is producing a growing movement in the United States against the cruel and aggressive policies of United States imperialism. It is arousing the peoples of the world to a new consciousness, which is the greatest hope for a change in the United States, based on the defeat and elimination of such policies by the people of America themselves.
Please accept my most sincere congratulations to the people and Government of China for their unique and remarkable accomplishments during the last 16 years.
You have my unswerving support for any actions leading to the easing of the threat of world domination, and, thereby, to our common pursuit of world peace.
With warm regards,
Yours sincerely,
Bertrand Russell
[From Peking Review, vol. VIII, #50, Dec. 10, 1965.]
RUSSIAN COMMUNIST PARTY (BOLSHEVIKS) — Ninth All-Russia Conference
"The Ninth All-Russia Conference of the R.C.P.(B.), held in Moscow from September 22 to September 25, 1920, was attended by 241 delegates (116 with the right to vote and 125 with voice but no vote). Among the items on the agenda were: the political and organizational reports of the Central Committee; the immediate tasks of Party development; a report of the commission in charge of the Party history studies, and a report on the Second Congress of the Communist International. The Conference also heard a report from the Polish Communists' delegate. Lenin opened the Conference, delivered the Central Committe's political report, and took the floor during the debate on the immediate tasks of Party development. The political report dealt mainly with the two subjects—the question of war and peace with Poland, and the organization of Wrangel's defeat. The Conference passed a unanimous resolution on the conditions of peace with Poland, and approved the statement by the All-Russia Central Executive Committee on the specific peace terms drawn up on Lenin's instructions and edited by Lenin. The resolution on 'The Immediate Tasks of Party Development' provided for practical measures to extend inner-Party democracy, strengthen Party unity and discipline, combat red tape in government and economic bodies and improve the communist training of young Party members. The Conference deemed it necessary to set up a Control Commission, to be elected at Party congresses, and Party commisssions under gubernia Party committees, to be elected at gubernia Party conferences. The Conference gave a rebuff to the 'Democratic Centralism' group, who denied Party discipline and the Party's guiding role in the Soviets and the trade unions." —Note 91, LCW 31.
RUSSIAN IMPERIALISM
Russia dominated the revisionist Soviet Union, and in effect the USSR included most (though not all) of the areas under Russian imperialist control in that era. Since the collapse of the Soviet Union in 1991, and the transformation of Russia and the rest of its pieces into Western-style monopoly capitalism (instead of state capitalism), the Russian bourgeoisie has more and more been attempting to reassert its imperialist control over that old empire. They still view countries which are now nominally completely independent, such as Ukraine, Belarus and Georgia, as regions properly under their thumb. This has already led to some small Russian imperialist wars.
"Some [geographical labels] reek of colonialism ('Black Africa') or lingering imperialism ('the near abroad', Russians' term for the former Soviet empire)." —"A menagerie of monikers", The Economist, Jan. 9, 2010, p. 16.
RUSSIAN SOCIAL-DEMOCRATIC LABOR PARTY (RSDLP) — First Party Congress
"The First Congress of the R.S.D.L.P. was held illegally in Minsk in 1898 (March 1-3 [13-15 on the western calendar]). The question of calling a congress was raised by Lenin in 1896 when he was in prison in St. Petersburg. The arrest and exile of Lenin and other leaders of the St. Petersburg League of Struggle prevented the convening of the Congress. Preparations for it were continued by members of the Kiev Social-Democratic organization who had escaped arrest. The Congress was attended by nine delegates from six organizations—one each from the St. Petersburg, Moscow, Kiev and Ekaterinoslav Leagues of Struggle, two from the Kiev Rabochaya Gazeta group and three from the Bund.
"The Congress decided to merge the local Leagues of Struggle and the Bund into a single Russian Social-Democratic Labor Party and elected a Central Committee. Rabochaya Gazeta was recognized as the Central Organ of the Party. It was announced that the Union of Russian Social-Democrats would represent the Party abroad. The Manifesto of the R.S.D.L.P., published by the Congress, declared the Party's main task to be the struggle for political liberty against absolutism, connecting that struggle with the further struggle against capitalism and the bourgeoisie.
"By founding the R.S.D.L.P. the First Congress marked a step forward in mustering the proletariat around revolutionary Social-Democracy. It did not, however, create a Party that was a united whole and did not elaborate the programme and rules of the Party. The Central Committee elected at the Congress was arrested shortly after. Confusion and wavering increased in the local Social-Democratic organizations and the creation of a unifed Marxist party still remained the chief task for the Russian Social-Democrats." —Note 75, Lenin: SW I (1967). [For the reasons mentioned in this last paragraph, the true founding of the R.S.D.L.P. is generally considered to be its Second Party Congress.]